Best Camping Shower Shelter. Ready for camping this fall? The season is precisely right for camping, with the world turning red and gold, chill in the air. The nights spent sitting around the campfire with your loved ones; nothing can beat good camping out with family.  I am sure you are prepared with the tents, the food, and all those necessary things
Life outdoors is beautiful and a change from your routine. When you are camping out, you still need your privacy in the wild, don't you? You need your own private space for your bath and your toilet. What a shame it would be if this is an uncomfortable job out camping! It is a fantastic break to get away from the city and into the wilderness, but it can get irritated when you have to change and wash out in the open.
Camping Shower Shelter
What you need is to build a camping shower shelter that will solve all these problems, give you your privacy, and in the process making your camping trip comfortable. It is a worrisome thought to go wandering out in the woods, looking for a safe place for your toilet duties and your washing. So, you need a camping Shower enclosure dedicated to your privacy.
Is it possible to make your portable shower for camping? Let us get back to nature, but this does not mean you have to be natural in front of all the other campers. Let us see if we can come up with a DIY camping shower. We can make something which can be set up in the woods and which can offer some privacy.
The easiest way to build a camping shower shelter is to use your garden hose and a container of water, fix it on top of a high branch, and let gravity do the rest. For privacy, you can hang your camping shower curtains on hooks. If you are camping in a wooded area, the cold showers would not be so comfortable.
After a day of hiking and cycling in the dirt and grime, a warm shower would refresh you, and you would be ready for a campfire feast at night. You can build a warm shower for yourself as well. You would need a solar bag, a black water bag that takes the energy from the sun's rays, warming up the water in the process.
Fix a nozzle to this bag, hang it above you, and enjoy a warm bath. This is a good option when you are camping with family or all on your own, backpacking. But it does have its drawbacks. What if the water is cloudy and chilly, and there is no sun? You are going to be shivering under a cold shower.
A DIY Portable Shower Stall can also be installed when you are in the woods, camping. Let us check out a few camping shower tents and camping shower enclosures, which would make life easy for us campers.
WolfWise Instant pop up privacy tent
This is a big and light camping shower tent, which takes a few minutes to set up and dismantle. You just need to open it up and peg it on the ground. Made with high-quality nylon, this tent has a removable floor. Imagine removing it, digging a latrine, and making it into our toilet. The roof of this tent can be removed, and you will get a new window to keep the area fresh.
Light speed outdoor extra broad tent
This is pretty heavy, and you will need a car to carry it along. It is heavy mainly because it is made up of a solid material. It is waterproof and can withstand bad weather. Like all other tents, setting it up and taking it down is relatively easy and takes only a few minutes. The stakes are the most massive things in the tent; they are used to secure this tent to the ground, making it sturdy and worth the money you would spend.
Ozark Trail
This is a different one; it has two rooms. Ozark Trail has a new and incredible feature, which is a solar shower. It looks very narrow because there are a shower and a changing room. The shower is more expansive, and when folded, this tent is massive, needing two people to lug it around. Made of polyester and good waterproofing, it is comfortable setting up and pulling down. The camping shower frame is of reliable material and rather heavy.
This shower tent has all the features that other tents offer; what makes it unique and different is the solar shower; you get to have a hot bath whenever you want. But what about days which are cloudy and cold? Well, all camping tents have their pros and cons. A good buy!
Ridge Outdoor gear
A tent with a new design and some extra features which make it enjoyable. The most impressive feature is the bug-proof shower head hole. No more fear of the creepy crawlies crawling down the showerhead. It has an extra mesh for ventilation, a clothesline to hang your clothes; it even has a toilet paper holder and a hook to hang a lamp.
It cannot get more convenient than this!
DIY Hula Hoop Shower Tent
The hula hoop is a very convenient and simple style for a camping shower curtain. It used to be the oldest and the most commonly used shower shelter for camping until the new shower enclosures came into the market. It is easy to make the hula hoop shower for your campsite.
You would need a plastic pipe to make the hoops; decide on the diameter, which is comfortable for you. Make the hoop and put in the camping shower curtain hangers.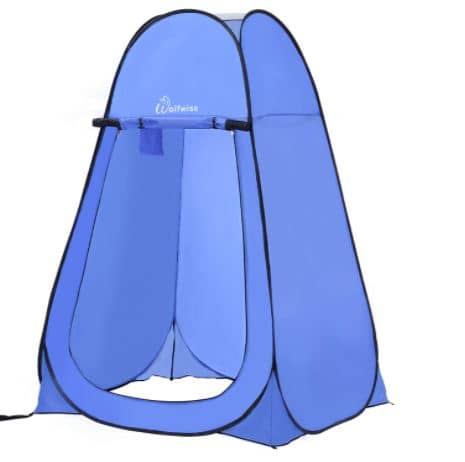 This hoop needs to be hung on a tree with easily accessible branches where you can turn your towel and other toiletries. This is a tricky part where you hang the hoop on a sturdy unit, so there is no accident. Put in the curtain and use clips to close the curtains for privacy. This is a very convenient way to build a camping shower shelter.
Let me give you a helpful tip here, While taking a shower, if you feel the shower curtain's lower seam is flapping around and sticking to your legs, then think about making another hoop and attaching it to the bottom to keep it from flapping around. This step will make your DIY Hula Hoop Shower Tent more secure, and it can withstand rain and thunderstorm as well.
You can leave the water out in the sun to get a bit warm before your shower. Or some water can be heated on the stove. Have a private shower, and stay fresh even when you are in the open wilderness.
KingCamp Outdoor Camping, dressing, Changing Room
A large enough tent which can be used by two people at the same time. It much sturdier as compared to the other tents, and that is because of the two fiberglass poles and four steel poles. Setting it up needs a little learning there, but once you get its hang, it is easy to set up and dismantle. This tent is spacious as well as user friendly.
The floor is of mesh, so that allows the free flow of water. No more standing in puddles around your feet. Another exciting feature is a polyester rainfly, which protects against rain and sunshine, and it is also removable.
You can use this shower tent as a camp restroom also.
People love camping out, but some do not understand the hassle of carrying, fixing, pulling down a shower shelter. They wonder if it is worth the hassle. Of course, it is
Who would like to perform their morning rituals in the open, with prying eyes all around? They could be animals but imagine the discomfort! An alarming thought indeed!
All that needs to be private stays private.
Secondly, you can have a safe and private place to change your clothes. A camping tent does not allow that freedom; it is cramped, especially if you share it.
Even if you are camping for fun and enjoyment, which I am sure we all do, it is still certain things in the great outdoors that you would be happy to skip.  Another essential aspect of carting along a shower shelter is that it provides complete hygiene and sanitation when installed a few feet away from your camping tents. It will keep you healthy on your rendezvous with the great outdoors.
Conclusion
Go ahead and indulge in one of these camping shower tents and feel how your camping experience takes a complete turnaround for the better. Not only will you have your much-needed privacy but it will also keep you fresh and healthy to enjoy all your outdoor activities. Weigh all the factors before buying your shower tent.
Hi, I am Michael B.McMahon. I am a professional Hiker, Traveler, Climber & Mountainer. I love to travel a lot. I describe my all experience in this blog. I visit a lot of places. I hope my all article helpful everyone. Enjoy It