Want to buy the best tents under 100 for camping or backpacking but tight on budget? Well, this article is for you. Tents tend to be useful, but expensive. So, when you try to buy a reasonable yet durable one, you will either out of money or get exhausted after seeing so many options.
Choosing a suitable tent for camping is miserable. If you are tired of running from here and there for the right one, don't worry. Here, we have reviewed 7 best tents for the camp lover.
Besides that, we have featured a buying guide for the user who wants to know every detail while purchasing a tent. Let's jump into the article without any delay.
Toogh-4 Best Instant Camping And Backpacking Tent
Specifications:
Weight: Around 7.6 pounds.
Capacity: Can accommodate at least 2 adults and 2 children.
Appropriate For: Camping in backyards, festivals, and hiking.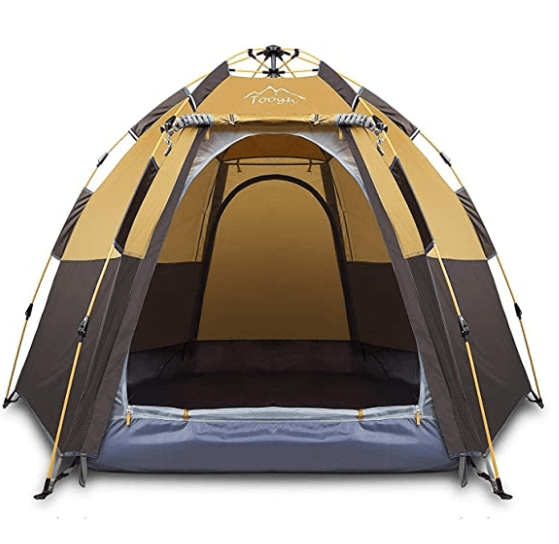 It Is A Good Deal Because..
This high-quality tent is made of 210D Oxford fabric. And it is coated with Silicon that repels water. The body has a waterproof level of 3000mm. Meanwhile, the tent floor is upgraded because it has a waterproof level of 10000 mm. So, you don't have to worry about any leakage during a rainy trip.
The surprising fact of this tent is, it takes only 30s to set up. Thus, it is a perfect choice for a long, adventurous day. All you have to do is lift the top of the tent and voila! Everything else will be done automatically. Isn't it very convenient?
Now, we all know how much of a problem mosquitoes are under the open sky, right? But it also solves that problem for you. The presence of an extremely dense mesh bans the entry of insects in any way. Apart from that, it has great ventilation so that you will not feel suffocated.
Making a decision will become easier if you are familiar with mathematical concepts. You can determine the durability of this tent just by looking at it.
The six angle design makes sure the tent withstands forces or heavy rainfall and roaring winds.
Furthermore, the tent provides two doors for easy entrance and exit. You can also hang lightweight items like lanterns by using circles provided inside the tent.
To Sum It Up,
Toogh-4 Best Instant Tent is perfect for camping trips with your friends or family where you need to handle a lot of things. You have to look after your children, get the food ready, set the tent up, and so on. The instant set up will save time while the mesh windows protect you from the outside. Just grab it right now! Undoubtedly, it is a great deal.
NKT Cherokee GT Dome Shaped Family Camping Tent
Specifications:
Weight: Approximately 15.21 pounds.
Capacity: 5-6 people.
Appropriate For: Car camping, group hiking, and family camping trips.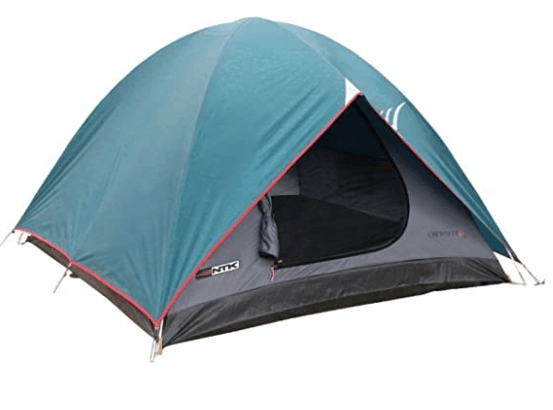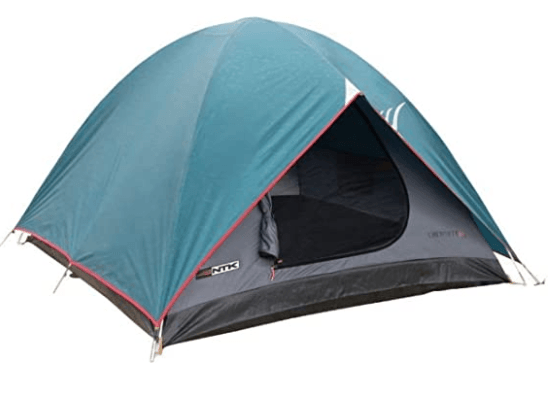 You Should Buy It Because..
The fabric of this tent is 190T laminated polyester along with polyurethane. This might give you an idea of the high quality of this camping tent. Since the material is 100% waterproof, you don't have to worry about getting wet in the rain.
With a central height of approximately 5.9 feet, the NKT Cherokee tent has made by keeping your comfort in mind. Apart from that, it also has a spacious floor where you and your team members can take rest.
Besides rain, this tent can protect you against all kinds of natural calamities. The fabric is coated with a heat-seamed thermoplastic. However, you will stay protected from the harmful Ultraviolet rays of the sun. So I'm sure you're not getting sunburned anymore!
The most important thing is, the tent will stay put against all kinds of natural forces. This is because of the sturdy construction provided by Nano-flex fiberglass poles with additional thickness, along with double gold chrome plated ferrule hardware.
The strength of this construction is further improved by 100% virgin material and elastic which increase flexibility.
Moreover, the ventilated mesh roof and UM Polyester micro-mesh fabric make sure you are out of the reach of the tiniest insects. The ultra-thin mesh will provide excellent ventilation while keeping you protected.
When you are outside, you may need a place to put all the essential staff together. For that, NKT Cherokee Tent has a spacious utility pocket at your disposal to store important things.
Overall..
If you are planning to go on a family camping trip, then this tent may be the right one for you. Along with the effortless, easy pin-and-ring system setup, your family and you will stay protected in the outdoor.
ALPS Mountaineering Lynx Tent
Specifications:
Weight: Approximately 4 pounds.
Capacity: Can accommodate 1 person.
Appropriate For: Bike touring, backpacking, and camping.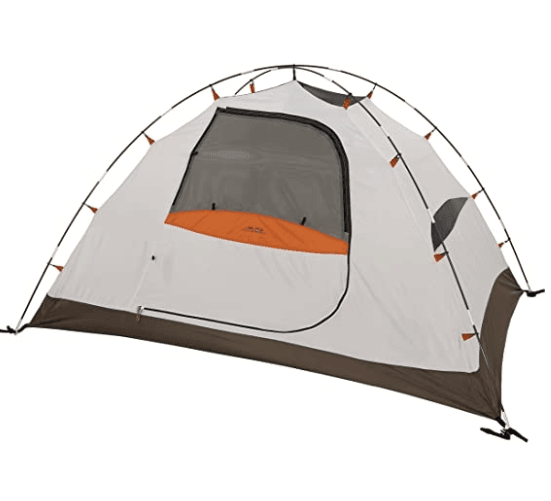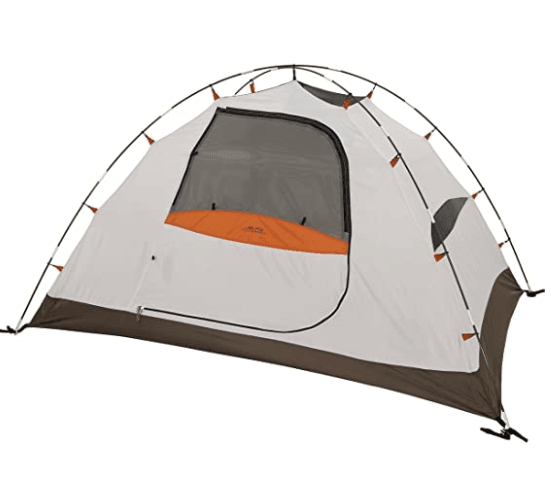 It Is A Good Choice Because..
Did you ever get frustrated while fail to assemble your tent? I know, you don't quit and have that patience after an adventurous, yet tiring day. But with the ALPS Mountaineering Lynx Tent in your inventory, you don't need to worry about that anymore.
Set-up your tent within seconds with the help of two Aluminum poles that keep your tent upright. Apart from featuring a vestibule for additional storage, this tent is made from waterproof polyester that will keep you dry.
Moreover, this fabric will also protect you against the harmful Ultraviolet rays of the sun. The single doorway is equipped with number 8 zippers. Inside, you will find gear lofts, storage spaces, stakes, and guy ropes, which are ready to be used.
The small size of this tent plays a role in keeping you warm during cold weather. Your body can heat the inside of the tent quickly. So, it can ensure a comfortable environment for you to rest in, and you don't need to worry about what the weather is outside.
On top of that, this camping tent also requires very low maintenance. You can clean it with your hands without much effort. And, does not require any extra equipment for washing.
On The Whole..
If you like sleeping separately, then it is probably the best camping tent for you. It will not take up much time to fix it, and at the same time provide you enough space and features. We must say, this is a fair deal!
AmazonBasics Outdoor Camping Tent
Specifications:
Weight: Approximately 8.4 pounds.
Capacity: Can accommodate 4 people.
Appropriate For: Family camping and festivals.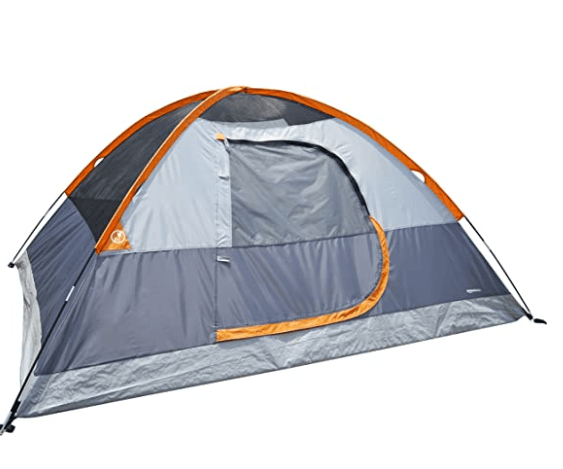 The Features
The AmazonBasics Outdoor Camping Tent is one you cannot miss out on. This dome styled tent can easily accommodate 4 people. It is coated with polyester. Apart from that, it is also welded with 1000D polyethylene. Both of the materials made the tent waterproof.
These properties ensure that you will not face any problems in the rainy season.
Besides that, the bathtub-style floor along with inverted inseams provides excellent protection. There will not be any leaks. So, you will be in a warm and dry environment. This tent is suitable for not one, but three seasons.
It was manufactured keeping your comfort in mind. A central height of 59 inches and an interior space of 9 feet by 7 feet will help you move around pleasantly.
Stakes are included with this tent, which ensures the tent does not budge no matter how windy it is. Plus, the rainfly awning will protect you from sunlight by creating a cool shade. In other words, it is suitable for any weather.
Moreover, this camping tent also features cool air-port and adjustable ventilation. Both of these things will help you control the temperature of the inside of the tent. You will also find a storage pocket inside where you can keep small items. Therefore, you don't need to scatter your belongings on the floor anymore!
To Summarize It..
This is one of the best tents under $100 on our list. Whether it is the durability of the fabric or the spacious interior inside, it makes a great tent for camping trips and backpacking hikes. You shouldn't miss this out.
Kelty Salida Camping And Backpacking Tent
Specifications:
Weight: 4.57 pounds.
Capacity: Can accommodate 2 people.
Appropriate For: Camping and backpacking.
The Benefits
You may feel difficult to find a proper tent for two people under $100. The Kelty Salida Camping and Backpacking tent is suitable for two person and it is under your budget.
The set up of this tent is much easier than others. Therefore, you won't have to use much of your precious time to get into this comfortable tent. A relaxing time-out will only be a minute away. Moreover, the portable weight of this tent makes it quite easy to carry.
The walls of the Kelty Salida is made of 68D Polyester. 40D No-see-Um mesh will protect you from bugs. Meanwhile, the floor is made of 68D Nylon which is perfect for a comfortable escape.
Along with a single door and vestibule, this tent also comes with gear lofts and color-coded clip attachment. Moreover, this three-seasons camping tent features internal storage pockets. These pockets can be used to store small utility items.
If you are scared about carrying the tent then the roll tube carry bag is here for you. Furthermore, it has a single, easy to enter the door, while a full seam taped construction provides stability.
In A Nutshell
This will be the most appropriate tent for you if you want to go on a camping trip with your spouse or friend. The quality time spent inside this safe and durable tent will be always a memorable cherish for both of you. So, hurry up and grab one now!
Forfar Camping Tent
Specifications:
Weight: Approximately 7.45 pounds.
Capacity: Can accommodate 3 people.
Appropriate for: Backyard camping, festivals, and car camping.
You Shouldn't Miss Out On It Because
The Forfar camping tent is a dome structured model that can easily make space for 3 people. It features two different materials for the inner and outer parts. The inner fabric is made of 190T PU 800mm Polyester plus mesh. Meanwhile, the external fabric is made of 190T PU 1200 Polyester. Using two several fabrics in a single tent is quite rare and thus it is in the list of the best tents under 100$.
A Polyethylene cloth makes the floor of the tent. This model comes with strong stakes that can withstand harsh weather conditions. Painted fiberglass rods buried deep into the ground will maintain stability. No natural forces will be able to uproot the tent.
It does not matter whether it is a warm, sunny day or a day when the wind is roaring. You will be safe and sound inside this tent.
Along with these features, it is also quite compact. As a result, this tent will not take up much storage or space and you can carry it with ease. Isn't it very suitable for a camping or backpacking trip? I'm sure the answer is a firm yes.
Moreover, you can set the Forfar tent in a couple of minutes. This is very useful after an enjoyable, yet exhausting day. Apart from that, it requires low maintenance that means you don't need to provide much effort to clean it.
The Outline
If you are planning on a casual camping trip, then I must say, this is one of the best options available out there. I don't think you can come across a better option.
Cedar Ridge Rimrock
Specifications:
Weight: Around 10.9 Pounds.
Capacity: Can accommodate 4 people.
Appropriate For: Car camping and festivals.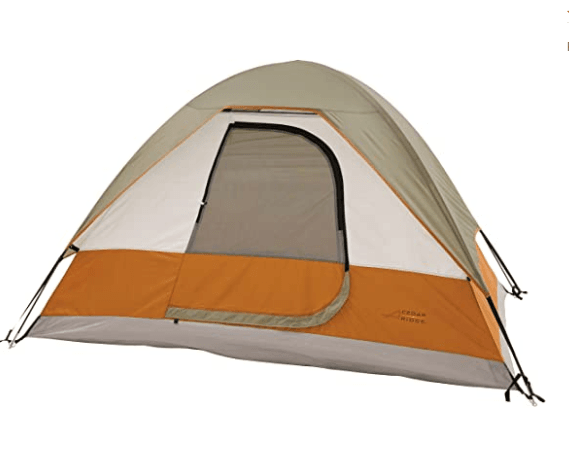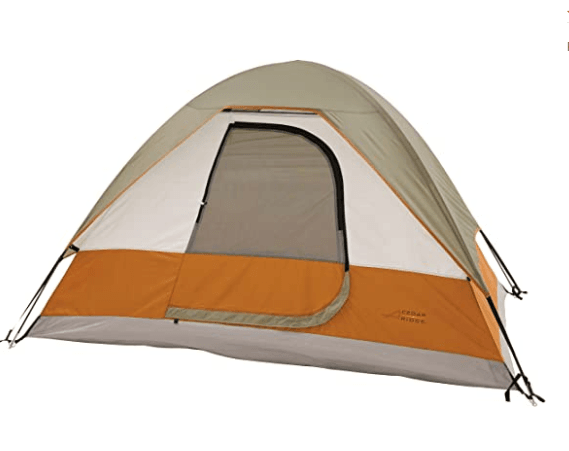 You Will Be Satisfied With It Because
The Cedar Ridge Rimrock tent is a tough one to beat on this list. With a central height of 60 inches, this tent will surely serve as one of the most comfortable among its rivals.
The base size of the tent is 8 feet 6 inches by 7 feet 8 inches. Can you imagine how spacious it is? The space of the tent can be compared to an entire room. Moving around in the tent will be a piece of cake for you.
You will find an 8 numbered zippered mesh pocket for storing important items. Along with that, this tent is also equipped with a gear loft, steel stakes, and guy ropes.
Furthermore, the fabric of this model is made of 185T Polyester. As a result, the tent stays taut. This property will also protect you from the harmful Ultraviolet rays of the sun. So, fear sunburns no more!
Suffocation is out of the renowned question. Here, you will have excellent ventilation that will continue supplying the inside of the tent with the help of two zipper windows. One of these windows is located in the rear end, while the other is found on the door.
The ventilation is further improved by large side mesh panels. They let air in, but restrict the entry of bugs and insects.
On top of that, shock-corded fiberglass poles make sure the tent stays in place against natural forces. As a result, you will be safe irrespective of the weather conditions.
In Short..
If you want a tent whose features surpass its price, then this is it. Not only it is available at a reasonable price, but it also provides outstanding service. I'm sure you won't regret the dime you spend on this one.
Buying Guide of the best tents under 100$
There are a lot of factors to consider when you decide to buy a ten. Of course, determining those points may seem difficult. But don't be panic as we are here to guide you through this confusing process.
So, hold your horses before purchasing anything. And make sure you have considered these points.
How Often Are You Going To Use It?
Do you want a sustainable tent that you can use over the years? If your answer is yes, then you have to inspect every tent you come across. You may even have to increase your budget.
Durability does not come cheap. If you want a long-lasting tent, you will have to pay the price for it. But the main problem here is a lot of such camping tents claim to be durable. And many times, they don't live up to their claims.
Then how will you determine when the description of the product matches its service? The only solution to that is research. Read the product description carefully. Obtain information about the materials used in the product and find out if they are of high quality.
Furthermore, read customer reviews. They have used the product. Therefore, they will know more about it than anyone else. If you are satisfied with the durability of the tent after the research, then the coast is clear for you.
How Much Space Do You Require?
Now, one of the most important factors is the space a tent provides. Of course, it depends on your personal preference. If you want to stay alone or with your spouse/partner, a small tent will be sufficient for you.
Most of the time, people want to spend time with their loved ones on trips like these. If you want to share the space with a group of people, then you will need a much bigger tent.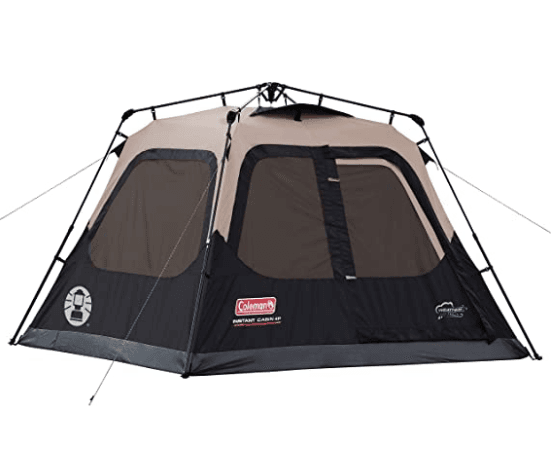 Another thing that affects this characteristic is the place you are going to visit. If the area has a lot of trees, then a huge tent will not be a good choice for the occasion. Therefore, think about all the details before choosing a tent.
In What Weather Conditions Do You Want To Use It?
The type of tent that you are going to buy depends on the condition of the weather. Summer tents provide great ventilation. Apart from that, they also focus on keeping any bugs away from you.
On the other hand, 3 season tents are durable. They can be used in cold weather conditions too. Therefore, they need to provide a warm environment for you. As a result, 3 seasons of tents need to focus on a lot of features.
To sum it up, the type of tent you will buy depends on the environment you go camping. If you only like to go camping in the sun, then summer tents will be the best option for you. But if you go camping throughout the year, then you will have to buy a 3 season tent.
How Much Weight Is Suitable For You?
Suppose, if you are camping solo or hiking, then a heavy tent will be a huge problem for you. You will have to bear the weight of the tent all by yourself.
As a result, more energy will be used so you will get tired very easily. In such cases, I recommend a lightweight tent to help you enjoy your adventure without getting fatigued.
But if you are going camping with a group, you will have a lot of people to carry things. On top of that, camping with a group means you will have a vehicle at your disposal. So storing the tent will not be an issue at all.
What Shape Of Tent do You Intend To Buy?
Another factor here is the shape of the tent. You can buy both tunnel and dome-shaped tents. Tunnel tents are useful for backpacking. Since they are lightweight, they can be carried easily.
And tunnel-shaped tents also offer a lot of vestibule space. Although they are not freestanding and require stakes for support, they are quite stable.
In contrast, dome-shaped tents are free-standing. I would say they are best for camping and festivals. They offer commendable floor space and headroom so you can easily move around inside.
Although out of fashion, you can still purchase triangular tents. They are also called A-Frame or Ridge tents. You can buy one if you want a tent that can withstand harsh weather conditions such as storms.
FAQs on Best Tents Under 100$
What is the life expectancy of a tent?
If the tent you bought is of good quality, it can last for twenty to thirty years. Of course, there are a lot of factors that affect life expectancy. For example, if you leave it out in the sun without a fly for a long time, it will decrease the durability of the tent.
Apart from that, make sure you never store your tent wet. The moisture will leave no stone unturned in ruining the fabric of the product.
Do tents lose their waterproofing?
Yes, like most coatings, the waterproofing on tents wear out too. And when it does, it will be quite visible. The waterproofing will last longer depending on how often you use the tent.
But don't worry, you can easily reproof your tent when the coating becomes flaky. Otherwise, if it looks good, you don't need to do anything.
Should you put a tarp over your tent?
The answer to this question is a definite yes. You should put a tarp on your tent for quite a few reasons. Putting a tarp will help the tent stay strong and resist strong winds. Besides that, it will also increase the waterproofing ability.
Furthermore, a tarp will also protect your tent from external dust and any other things that may damage the product. Therefore, my advice for you is to always use a tarp over your tent if you want to increase the durability.
Buy the Perfect Best Tents Under 100
Phew, we are at the bottom of the article. Are you still confused like before? We hope you are not. All the camping tents of our listed best tents under 100$ are tested very well. You can trust the reviews without any doubt.
If you need more features then the price should be $100+. If it's possible to review the tent from your nearby store then it is wise to go there.
You can tell your opinion regarding the review in the comment section below. We are eagerly waiting for your comments.
Hi, I am Michael B.McMahon. I am a professional Hiker, Traveler, Climber & Mountainer. I love to travel a lot. I describe my all experience in this blog. I visit a lot of places. I hope my all article helpful everyone. Enjoy It