Are you looking for the best backpacking lighter? Fire is an essential part of a human being. It warms you up, provides safety, and cooks your food. If you plan to go for a hiking spree soon, you will need a good lighter to cater to your camping needs in the woods. It is no secret that you will need a lighter that is lightweight and small yet powerful, resistant to water and wind.
I have done the challenging task for you, and you don't have to worry about selecting a reliable lighter for yourself. I have identified the top 5 backpacking lighters with exclusive features yet affordable to make your work simple while hiking and camping in the thicket. All you need to do is scroll down, and you won't miss one that would gladden your heart. Continue reading.
Top 5 best backpacking lighter
1. ZIPPO MATTE POCKET LIGHTERS
It is an excellent lighting device that comes at a reasonable price. Whether you are lighting a campfire, a cigarette, or a candle, it is a losing battle if it's windy outside. However, with Zippo Matte Pocket Lighters, it is an exciting windproof lighter to cater to your lighting needs. Check out its unique features below.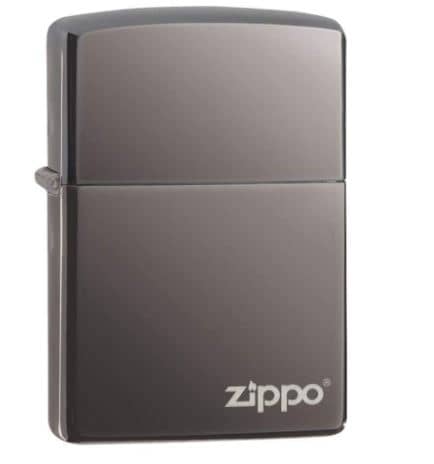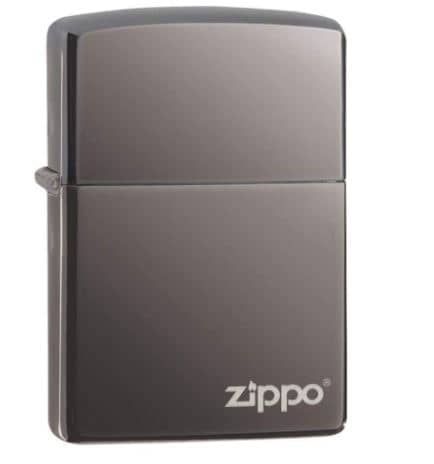 Important features
Windproof
It is a windproof lighter with a distinctive Zippo click. Besides, it can withstand even the strongest winds and comes in handy as an emergency device when you get lost in the woods.
Metal construction
Unlike its competitors with a plastic body, the lighter gets made with sturdy metal. It's not flimsy, and the on button feels classy. It feels fantastic to have a product that lasts.
Refillable
What I liked about the lighter is that it is refillable for lifetime use. If you want to experience an optimum performance, I recommend using Zippo lighter's fluid wicks and flints.
Lifetime warranty
Unlike traditional lighters with a limited warranty, the light comes with a lifetime guarantee. It allows you to get repairs and replacements for free. You only need to contact their customer service to get the service if your lighter doesn't work correctly.
Smooth texture
It has a unique matte finish that gives the lighter a smooth texture. Interestingly, the device doesn't show fingerprints when touched and doesn't scratch easily.
Lightweight
The lighter is light in weight. It only weighs 1.5 oz and is convenient to carry around. You can place it in your pockets for easy access since it's smaller in size.
Choice of colors
There are a variety of colors that you can choose. Black matte lighter is the first on the list, followed by green, blue, grey, and burgundy. Hence, you won't miss choosing one that would meet your lighting needs.
What I liked
It is a perfect choice for camping and hiking
Has a distinctive Zippo click
Available in multiple colors
Has a lifetime guarantee
Easily used with thick gloves
No need to hold it while lighting, it can stand on its own
Works well with wind
What I didn't like
Expensive as a butane lighter
It is not waterproof
It stinks of petrol
2. LCFUN WATERPROOF LIGHTER OUTDOOR WINDPROOF LIGHTER DUAL ARC LIGHTER
If you want a distinctive lighter with an extremely slim profile, Lcfun Waterproof Lighter is ideal for you. It has unique features that make it the best choice if you are an avid cigarette and hiking lover.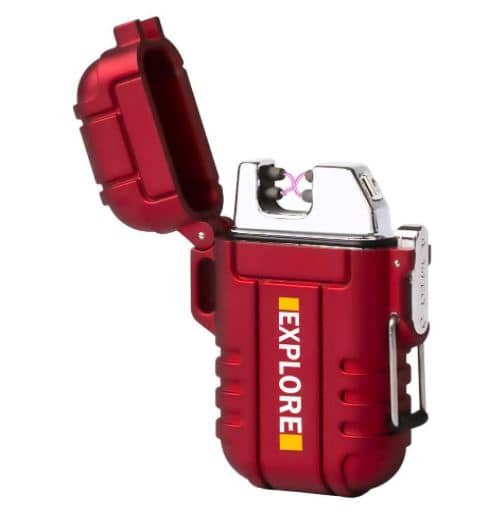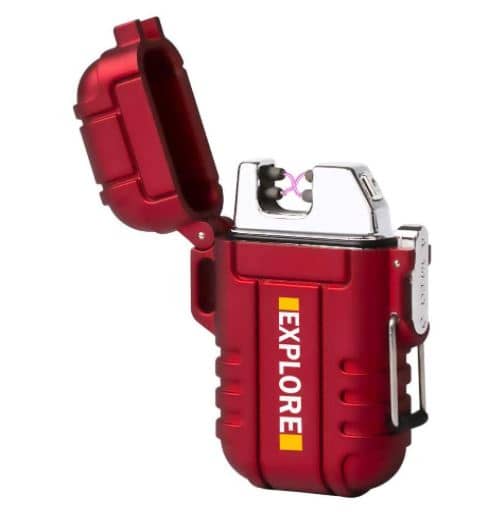 Important features
Eco-friendly
It has a built-in rechargeable lithium battery that co-exists well in the environment. You don't need to add the hazardous butane gas to light the device. Hence, it saves you lots of money as you won't have to refill it more often.
Multipurpose
Interestingly, you can use the lighter for many purposes. It is a perfect outdoor lighter, an emergency fire starter, or a camping fire starter tool to cater to your outdoor needs.
Waterproof
The lighter features an excellent waterproof design. You don't have to worry about rain as water doesn't seep inside the device. It has a more lightweight metal ring with a sealed light cover and locking clasp to prevent water from getting inside the machine.
Durable materials
It comes with a thick lanyard material to help you carry the device effortlessly. Besides, it also gets made of a high-quality Zinc Alloy and ABS material that is durable to make the product last forever.
Easy starting
It is so simple to start the lighter. With a simple push-button operation, your lighter comes to life. It has a convenient blue indicator that lights up when in use. Besides, it also has a 10-second time safety feature.
Compact
What I loved about the product is that it is nicely pocket-able. You can keep it safe even in the smallest pockets in your bag or trousers, making it a perfect choice for backpacking, hiking, and hunting.
What I liked
The lid folds back easily more than 90 degrees
Has a 60-day guarantee
Sealed cover
It is easy to start
Made with high-quality premium materials
Light to carry
What I didn't like
Included lanyard on the lighter is flimsy.
3. LCFUN ARC LIGHTER OUTDOOR WATERPROOF WINDPROOF PLASMA LIGHTER
If you are looking for a modern lighter that would cater to all your lighting and hiking needs, the fun Arc Lighter is an appropriate device to select. There is no doubt that the product is cool and practical, with second to none features.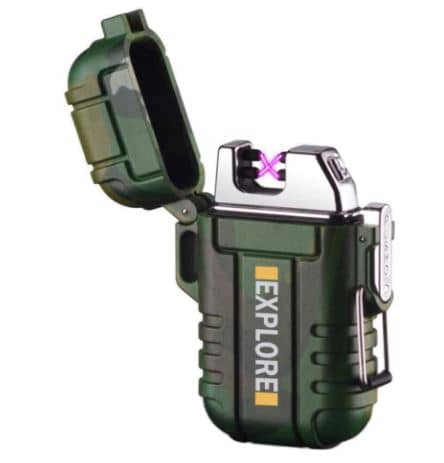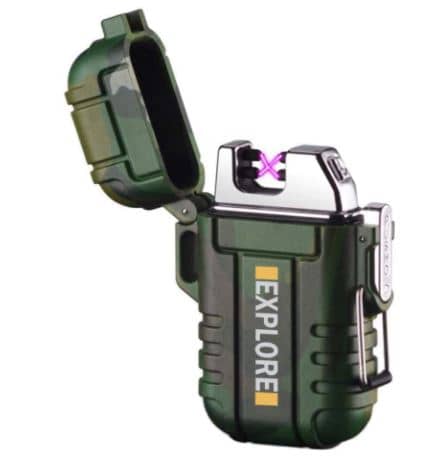 Important features
Tilt design
The most striking feature with the lighter not found in traditional devices is tilt 75 degrees. It allows you to easily adjust the direction of the product to ignite your cigarettes effortlessly.
Outstanding durability
Most importantly, the lighter is uniquely made with highly durable materials to last for so many years. Its outer casing gets professionally made of high-quality zinc alloy with a high-temperature ceramic plate.
Excellent battery life
What excited me about the lighter is that it allows you to ignite 60 cigarettes per charge. It means that even if you smoke a pack of cigarettes per day, the lighter can still last for more than two weeks.
Besides, the lithium battery is simple to charge. You connect the USB cable, and when the blue light is on, it is charging. Interestingly, the lighter gets fully charged after an hour.
Modern technology
The lighter utilizes modern plasma technology to support the butane-free ignition process. Luckily, the device is also eco-friendly since it doesn't use butane chemicals to light.
Water-resistant
Interestingly, the unit comes gets made with water-resistant materials. It has a metal ring sealing with a locking clasp to prevent the device from catching moisture.
Windproof flame
What I also loved about the lighter is that it produces a windproof and consistent flame. Hence it makes the product suitable for any camping or hiking activity.
Dual arc-design
The lighter's unique dual arc design makes the product ignite faster than ordinary lighters in the market. Therefore, it comes in handy as a safety device, especially if you want to light something up quickly while camping in the woods.
What I liked
It uses innovative plasma ignition technology
Has a waterproof body
Works better than any single-arc lighter
Free of butane
Suitable for igniting any type of cigar or gas
Has a windproof flame
Has automatic power-off protection of ten seconds
Has a reusable design that doesn't need refilling
Has a powerful battery with a quick recharge
What I didn't like
The battery life of one hour is too low for heavy smokers.
4. SCOTTE PLASMA WINDPROOF ARC LIGHTER ELECTRIC LIGHTER AND LED FLASHLIGHT – 2 IN 1 (BLACK)/5-IN-1
Suppose you need a safe lighter to use while camping during any weather condition, Scotte Plasma Windproof arc Lighter Electric Lighter is an ideal choice for you. It comes quite in handy when you are experiencing extreme windy and rainy conditions while hiking. Scroll down to master its exciting features.
Important Features
Powerful design
The lighter has a robust design concept with a perfect ensemble combining the glare flashlight with the twin-arc lighter. Surprisingly, one end gets designed as a more lightweight with the other end as a flashlight.
Safer to use
What amazed me with the lighter is that it has an automatic protection mode. By pressing the switch for more than seven seconds, it will activate the lighter's switching method. Hence protects you against accidental ignitions while the lighter is in your pockets.
Multi-functional lighter
Surprisingly, you can use the lighter to serve many purposes. It can quickly light a tobacco pipe, candlestick, a cigar, or a camping fire to accomplish all the tasks needed for a lighting device.
Fast charging
The lighter can charge quickly within 2 hours time frame. Besides, you can use it 150 to 300 times after a full charge.
Windproof
The magnesium lighting device can start a fire in any weather condition. It has a high-quality magnesium rod, steel scraper, and a durable paracord to withstand any extreme weather conditions while lighting.
Lightweight
It is light in weight and easily pocket-able. Interestingly, it weighs less than 2 ounces, and you can carry it around effortlessly. Such a lightweight device comes in handy during hiking, camping, and during any outdoor activity.
Dual-mode flashlight
It has a uniquely designed flashlight with two functional modes, normal and flashlight modes. You will simply switch modes by long pressing on the switch. On a full charge, the flashlight can achieve a continuous illumination for up to five hours.
Automatic protection
The lighter comes with overcharging protection that automatically stops the battery from charging when it is full. With such an incredible feature in place,
Return policy
Fortunately, the product has a return policy. If you are not satisfied with the lighter, you can return it for a refund or change it to another color or model.
What I liked
Has a sleek and portable
Easy to use
Has a heavy build quality
Sturdy cap
Light in weight
The lid opens and closes nicely
What I didn't like
Easily collects fingerprints
5. WATERPROOF LIGHTER USB PLASMA LIGHTER RECHARGEABLE ELECTRIC LIGHTER WATERPROOF WITH FLASHLIGHT FLAMELESS LIGHTER WIND-PROOF ARC LIGHTER FOR OUTDOOR CAMPING HIKING (BLACK)
Are you looking for a portable outdoor lighter? Waterproof Lighter USB Plasma Lighter is an ideal option for an enjoyable hiking and camping moment. If you are looking for a flameless lighting device, your lucky day has come. Choose this lighter, and you will appreciate yourself for having done so.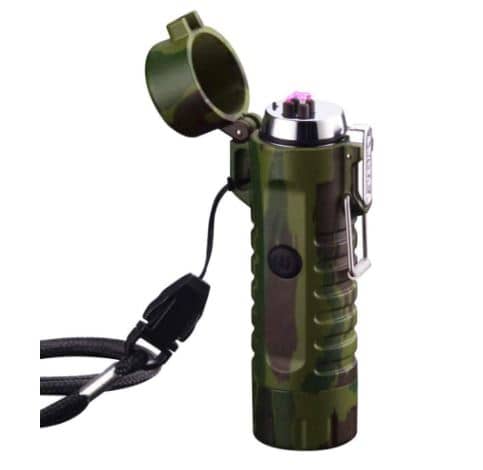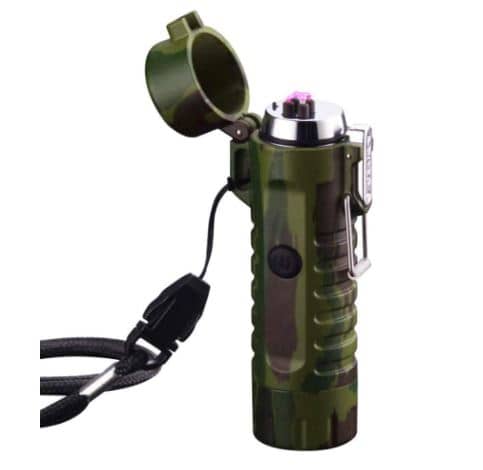 Important features
Waterproof
You don't have to worry about rains while camping. The lighter comes with a locking clasp with a metal-ring sealed cover to prevent water from getting inside the device.
Three mode flashlight
It features a three-mode flashlight that is low, highlight, and flash modes. These modes cater to different lighting situations while you are in the dark woods.
Windproof
Interestingly, the lighter produces windproof steady flames. It means that you can use the device even during windy days of hiking and camping.
Eco-friendly
It has a built-in rechargeable lithium battery. You won't experience the stress of having to refill your lighter every time it's drained. Besides, it also saves you money and time as you will only charge the device.
Durable
The lighter gets meant to last forever. In this case, it gets made with durable zinc alloy and ABS materials that last for an extended period.
Safer to use
Luckily, the product has seven seconds of automatic power off and short circuit protection. Hence it keeps you safe during your lighting moment.
Warranty
The product has a 60-day warranty. If you aren't satisfied with your lighter or have questions regarding your device, you can contact customer service for a refund or return.
What I liked
Has a waterproof body
Made of high premium materials
Is safe to use
Has a sleek design
Fast charging time
Has a long-lasting battery
Needs no fluid or gas to ignite
What I didn't like
It has a limited warranty
WHAT ARE THE THINGS TO CONSIDER BEFORE PURCHASING A BACKPACKING LIGHTER
Do you want to get considered as a pro in choosing excellent lighters? You will only select the best lighting device in the market if you consider several factors. Before buying backpacking lighter, you need to master the following aspects.
1. Durability
A lighter is a virtual device that you intend to use for a long time. Hence, you need to go for one that is durable. Select one that gets made with a hard case. Otherwise, if you choose a lighter with a cheap suit, it can quickly explode if dropped on a hard surface.
2. Design and build quality
You should strive to buy a lighter with a sleek and lightweight design. With such a model, it will suit various conditions, whether you are indoors or outdoors. Besides, make sure that the light can withstand adverse weather conditions.
3. Charge capacity
In all honesty, it is always a good idea to know how long the light can hold a single charge. Choose one that offers maximum charge capacity for it to last a long time when you are on a backpacking trip in the thicket.
4. Safety locking clasps
Many lighters come with external protection around the fuel tanks to protect against accidental ignition. However, it would help if you kept an eye on lighters with rubber or steel protectors.
Besides, look for a lighting device with a dual-arc or single-arc ignition system that comes with safety clasps and locks to protect you against accidental ignitions.
5. Size of the fuel tank
If you are targeting to purchase a gas or oil lighter, you need to look for a larger fuel tank device. A lighter with a larger tank capacity provides you with more extended units with only a single refilling.
6. Battery strength
On the contrary, if you need a USB charged lighter, choose a device with an in-built and powerful lithium-ion battery. Select one that offers 100 to 300 uses with a single charging per week.
7. Usage
Before you begin searching for lighter, you will need to consider how you intend to use your device. A great lighter will have the ability to spark a flame for a reasonable amount of time. Choose a tool that will function in almost every lighting situation.
8. Windproof
You will need a device that will operate even in the most extreme weather conditions. Ensure that you choose a light that produces a windproof flame to serve you well when it is windy or raining.
9. Portability
You wouldn't wish to carry any item that would add weight to your already full pack. Choose a lighter with a slim and sleek design. Have one that is pocket-able for easy access during an emergency in the woods. Beware that a lighter is among the few things that you should come in handy when attacked in a camping site.
WHAT ARE THE FREQUENTLY ASKED QUESTIONS (FAQs)
Which one is the best backpacking lighter in the world?
An excellent backpacking lighter is one with high-end features that would serve your camping needs. If you want the best lighter, go through our picks, and you won't get disappointed.
Which one is the best waterproof lighter?
A waterproof lighter is one that doesn't allow water to seep into the device. If you need a waterproof lighting device, choose one made with high premium metals such as zinc and ABS to cater to your camping needs.
Does lighter fluid dry up?
Yes! Lighter fluid dries up if you leave your device unused. It slowly leaks and eventually dries up, especially if you overfill it. Always fill your device half-way to prevent leaking.
How do I know that my lighter gets fully charged?
It entirely depends on the model of your device. However, for electric and plasma lighters, LED indicators to show you when your lighter is fully charged or out of charge.
CONCLUSION
Are you now a happy person? With my review above, your work is now simple than ever. I have highlighted the top 5 lighters that would cater to any of your lighting needs. Through this review, you will get unique insights into which to choose the best backpacking lighter in the world. Read through, and you will, for sure, find one with immense features that would make you feel happy. Backpacking lighter need for making food & Backpacking Grills.
Hi, I am Michael B.McMahon. I am a professional Hiker, Traveler, Climber & Mountainer. I love to travel a lot. I describe my all experience in this blog. I visit a lot of places. I hope my all article helpful everyone. Enjoy It