The camping Bulletin board is a powerful tool intended to communicate and update us about things happening around us. It is said to be a surface proposed for the posting of public messages i.e. to announce upcoming events, to provide information regarding something important.
A bulletin board has a writing surface such as blackboard or whiteboard and is often made of a material like cork so that things can be easily added or removed from them.
Magnetic bulletin boards or magnet boards don't have the problem of adding or removing pins overtime due to magnet inserted in it and is, therefore used as a substitute for cork boards.
There are numerous types of bulletin boards used for some specific purpose. It can be either for commercial use or for home. There is an enormous range of styles available. Bulletin board differs in size, as obviously the boards used at home might be smaller in size as compared to one used in classrooms.
In a classroom setting there are many types of boards placed according to their themes. Camping bulletin boards are the most famous one. It adds color to the class environment and children feel more excited to learn about them.
Camping boards creates an adventurous atmosphere for students to feel like they are tenting somewhere deep down the dark forest or beside the flowing river just while sitting in their classrooms.
Everyone loves camping theme. The display of camping themed bulletin boards in the classroom showing the colors of nature and the forest animals add a live to the class.
Ideas to implement a camping theme in class:
There are numerous activities and ideas that can be implemented in the classroom setting to provide awareness about camping theme.
Parents and teachers are well aware that when children feel related to something and shows interest in it, they develop the love for learning and gets more engaged. Due to this reason various items and aids are provided within the classroom to enhance the understanding of the theme.
Some of them are:
Forest playdough
Campfire art
Camping writing centers
Rock letters
Birds letter sort
Animal prewriting cards
Camping books
Camping themed block centers
Camping stem
River sensory tables
Nature walk
Camping dramatic play
Display Ideas:
The following ideas are used for display:
Camping Bulletin board:
In camping bulletin boards, the art and crafts are shown. It is design to welcome people to camping and to aware them about the instructions to follow during the camping. These boards depict the rules considered to be followed during the camping.
Camping themed classroom bulletin boards:
In camping themed classroom bulletin boards, the classroom is displayed in such a way that it seems more like a camp or gives a feeling to students that they are actually camping somewhere. Along with the boards, its related accessories are also displayed in the class to give a complete picture of the theme.
You Also Like: Camping Birthday Party Idea
In school mostly theme boards are displayed to aware parents about the current topic going on in the class. The classrooms are decorated entirely according to the theme to present it in front of the parents mainly on Parent-teacher meetings.
Camping Classroom theme:
The adventure this camping classroom theme brings to the class is lovely. It lightens up our learning space with so much to explore and look up to.
The following are some of the ideas which can help us with creating a camping classroom atmosphere:
Making of campfire
Camping theme signs posts
Camping classroom theme doors
Camping classroom theme furniture
Camping classroom theme bulletin boards
Camping accessories
Camping classroom theme books
Camping Bulletin board sets:
We can also use camping bulletin board sets to further enhance our theme. This is a set of stuff related to camping items which are easy to purchase and quickly can be used. They are ready-made items that are used for displaying the theme while saving our time.
We can purchase following ready-made items in this set:
Ready-made birds
Animals
Tents
Campfire
Houses
Trees
Summer camp bulletin board:
When summers are here and its time for a camping, summer camp bulletin boards preparation and display are so much fun. We can make summer bulletin boards for our classroom or even for our home.
Funny and pleasing captions can be written on the bulletin board as headings to welcome summers.
Some of the funny summer display ideas can be:
Diving into the summer season bulletin display
"I am ready "summer bulletin board idea
Watermelons and ice-cream display summer boards
Digging into the summer
Fun in the sunny weather board
Cute snowman summer bulletin board
Summer camp sparky display board
Olaf display board
Summer garden display board
Camping Bulletin board borders:
The borders add up live to a board. Nicely made and displayed border helps to increase the beauty of the board and attracts attention of the viewer.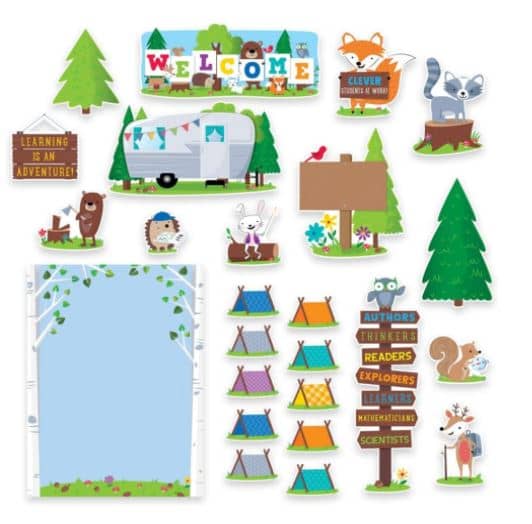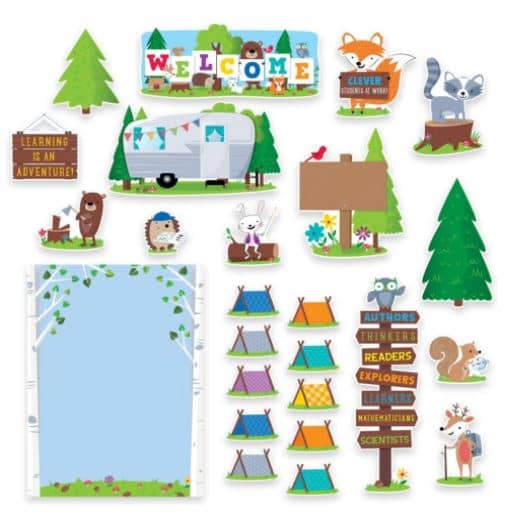 The camping bulletin board borders are of various shapes and styles, ranging from small to large in size depending on the length and width of the board. These borders are design to enhance the beauty of the class and to give the theme a complete look.
These bulletin board borders can be purchased online too. There prize vary according to their size.
Some are as follow:
Jumbo fall leaves boarders
Bumblebee borders
Animal and birds' border
Jumbo dinosaur cutouts
Jeep bulletin board cutouts
Maple leaves cutouts
Camping themed classroom printable:
These printable acts as an accessory, helping children to have a better understanding about the theme. Holding something in hand or the feel of being reaching to it open doors to excitement and engage children in the topic wholeheartedly.
Camping themed bulletin board printable help children enjoy the camping scenes and provide better exposure. These printable are in a variety ranging from easy to difficult and small too long.
Some of ideas these printable have are:
Camping color pages
Sort camping words
Cutting and pasting of relevant pictures
Painting in the camping printed scene
Camping scavenger hunt
Campfire tracing
Rules of the camp
Camping related poems
All of these above camping bulletin board ideas are really helpful while decorating our home or school or any other setting. Many of the ideas can be easily searched through internet and can be quickly bring to work.
Characteristics of Bulletin board:
There are three main characteristics of bulletin board to use:
Display board
Informative board
Interactional board
These three characteristics are really important to observe while making use of the bulletin board. After observing them we should also come across some other factors regarding our selection of the bulletin board:
Factors:
Accessibility
Durability
Colorful
Clear instructions
From beautiful to practical, the use of bulletin boards:
It is assumed that bulletin boards are only for decoration but in real their aim is far beyond it. They should be displayed beautifully but must be practical in nature. Following are some of the factors to keep in mind:
They must be inspirational and provides with amusement
They should be meeting a challenge
They must be thought provoking
Bulletin board strike a chord i.e.
Introduce concepts
Provide a place for daily review of concepts
Provide information about seasonal topics or events.
Additional resources
How to make a meaningful Bulletin board:
It is important to know what steps are to be taken to make a meaningful bulletin board. Following are some of the steps helping to form a good board:
Decide the topic for the board; we need to decide which topic should be displayed on the bulletin board first.
To crate a canvas for the bulletin board
To pick engaging images to feature on the display
To create a title
To gather relevant academic information regarding the topic
To add elements
How to make a classroom bulletin board:
To make a classroom bulletin board following steps should be considered:
Introduction
Choose a theme
Select the colors, color palette
Make a list of the available resources
Make a "things to do list"
Arrange the items
Add the wrapping paper
Attach the border to the board
Add pictures and words
Give the board a fine presenting look
What is a Bulletin board online?
A bulletin board is a simulated tool or discussion strand allowing users to sign-in and post comments, read postings, answer questions, post content, upload and download files.
What is the difference between email and bulletin boards?
Email is push item messages are sent online. While bulletin boards are pull items, we login to read messages.
Therefore, it is believed that bulletin boards are of great use, one can use it to inform or aware of others of the upcoming times. Bulletin boards are cheaper in price and very effective communicative tool. They can be displaced anywhere from corridors to freestanding booths to well-trafficked hallways to lobbies etc. Their purpose is to facilitate the posting of notices to let everyone be aware.
Hi, I am Michael B.McMahon. I am a professional Hiker, Traveler, Climber & Mountainer. I love to travel a lot. I describe my all experience in this blog. I visit a lot of places. I hope my all article helpful everyone. Enjoy It