Birthdays are precious and memorable. The occasion always calls upon cherished gifts from your loved ones, quality family time, and center of the universe feeling.
The best part about birthday parties is, even sharing happiness can feel the same as the birthday holder.
But eventually, birthdays are becoming dull and monotonous. That old gift opening, cake cutting, and faking smile routine is taking the joy from the birthday party.
Possibly because of having the same kind of arrangements. So, why not try out something different this year.
No more birthdays in the backyard and rental venues; it's time to take out the celebration in the great outdoors of nature.
You may have grown-up family members in your house. Don't worry, you can use these plans for adults too.
8 Camping Birthday Party Ideas
In this article, we will briefly talk about birthday party themes that you can use for anyone's birthday.
Here you will discover-
How to ideally arrange a camping birthday theme?
Interesting party campsite concepts.
And delicious food item presentations.
Let's check out how you can arrange an incredible party.
A Welcoming Banner
Nothing is better than a welcoming environment for a camping party. There are many ways to welcome your guests, but you should consider building a banner. 
Because your banner will reflect the overall camping themed birthday party. But, don't forget you may have a surprise plan and can't mess it up for a noticeable sign.
Fear not, you can design the banner like a rollover sign, which will show when you want to. And, also your banner doesn't need to get attached with something to pop-up.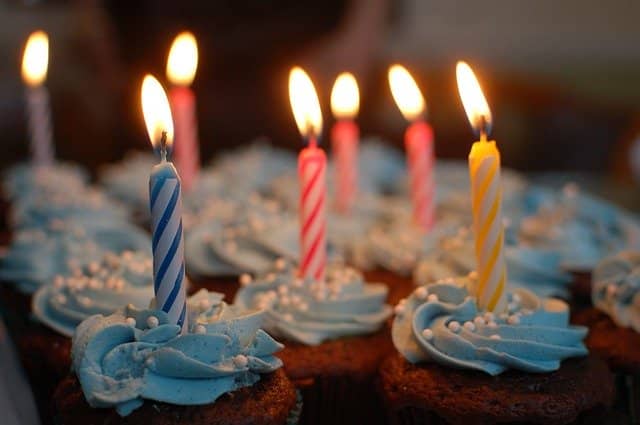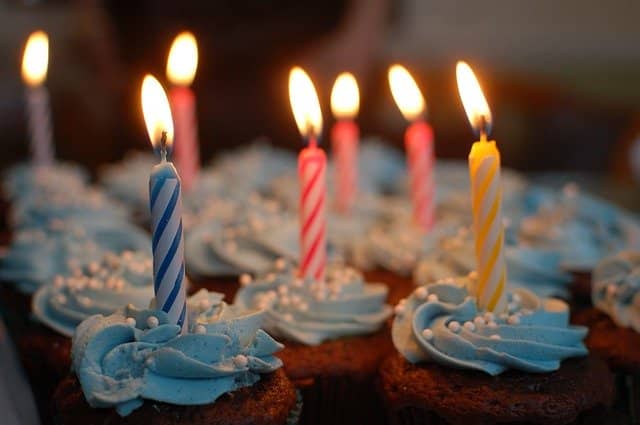 Follow these rules-
First, create your banner and roll it over.
Then place it over on top of a tree or pole.
Take precautions while hanging the stuff, because it will always roll over towards the ground.
Now add a small mechanism inside the cloth that is pullable.
Apply the same method for multiple tree branches.
You can use some light decorations with the banner. A surprise like this will give your kid a delightful experience.
It's better to use a big sheet of paper, cloth, or cardboard base for the roll-up banner. But we suggest you use a premade banner and use the reverse white side.
Use coloring, cut out papers, and stick them on the opposite side, and voila, your decorated banner is ready to use.
Build a Stage
For singing, dancing, and playing how a stage sounds. You can also decorate it with lights and other ornaments.
But it's a bit expensive and will require a lot of people to build. But you can go for a small stage that will only hold the presents then it will be easy to create. Camping party decorations are very important. 
If you think that building a stage will require a lot of hard work, then consider it mandatory.
How About a Performer (kid's special)
Well, kids love magic, and it doesn't have to be that good or exclusive. You can hire a street magician or do the tricks on your own.
It's not like magicians are available everywhere. You can try a fairy, witch, and wizard-like character for your performer.
If your kid doesn't dig any of these, then you can go for a joker. And don't be too fussy; this particular performer can be one of your friends or from relatives.
The whole point is to give the kids some entertainment and something to enjoy, rather than eating only food.
However, if you want a spooky atmosphere, then go for Dracula, mummies, werewolf, and headless horse rider.
But remember not to overdo it; your job is to give the kids a little bit of surprise, not to scare them for the rest of the occasion.
Fancy Marshmallow Station
Thinking about a party campsite, but not taking any measures for your marshmallows, it's not even cramping. How can it be a party?
Yep, marshmallows exactly feature the whole camping idea.
However, this should remain for the last menu. So for the best part, you have to take more precautions to make it perfect.
A marshmallow stand is best, rather than a typical campfire. These S'MOREs stations will make your camping party a bomb.
You will especially need small stones, straight wood boards, and steel pots (empty cans can work or big buckets) to make it. It can be great camping party ideas for adults too.
To build a beautiful Marshmallow stand, follow the necessary steps-
Fill the containers with small wood pieces and pour rubbing alcohol inside.
Don't pour too much flammable liquid; a small amount is enough.
Now place the woods beside the containers.
Place the stones in the side of the containers and keep enough space between the boxes.
When the woods are burnt down, all you have to do is pull out the containers from the base with a small two wood stick gadget bound by a rope, or you can use a tong and pour off the ashes.
All the kids will love this decoration and all the older guests too.
You Can do a Lottery Event
A lottery event will be perfect for a camping birthday; Especially if you have adult members at the party.
To set up this kind of event, all you have to do is make some small assumptions. You can do single ticketed events or multiple groups draw.
However, you can change some small things for your lottery event. If you write numbers in the invitation card and tell your guests to bring it with them, all you have to do is take the invite cards and perform the draw.
Furthermore, this camping birthday party idea will be cheap yet a surprise for the guests.
The Scout Regiment Plan (kid's special)
Scouting helps the kids to learn manners, discipline, and social awareness in a fun way.
Furthermore, it will be surprising to bring the kids to the party camping spot with a little training regime.
The most important thing to consider, your objective is to make all the kid guests with and especially your child. Start the day with some intense scouting plan and behave as you forget your kid's birthday.
You have to perform this cruelty in front of your kids. Make them a little bit sad.
You can do some formal exercises before arriving at the spot-
You can set up some portable tents.
Go hiking.
Teach your kids to build some gadgets.
Ignite a campfire.
Tell some stories.
Your primary intention is to stall the kids for a few hours until the final surprise.
Too much strictness might do the opposite of happiness. So, you should be in the middle of the strictness with a lovable approach.
Fun Camping Themed Party Games
One of the most crucial camping birthday party activities is games. Without these games, your party will not have enough activities to consider it even a party.
So, you have to include at least 5 or 6 activities to busy your guests. The best part about these games is, even the adults can play with the kids.
Some of these games will require some essential supplies, such as cut out papers, ropes, fabric sheets, etc. But mostly you will only need supplies around your house.
Furthermore, you don't have to worry about improvising about some of the necessary items. Possibly your guests will not even notice.
For your convenience, we have listed out some of the best games below.
Who Stole the Button
One of the members will steal a handful of buttons, and the detective has to find the culprit.
To make the game more interesting, you can create cards like detective, police, thief, and general audience. Everyone can play this fun game. Let your guests be the agent.
Pull the Rope
The rules are not that complicated; all you need a big cord and two teams.
Booth of the team will pull the rope. The team which pulls the other team towards their side of the line will be the winner.
Blindfolds
This game can give so much fun that the guests will love it. But the truth is, the blindfolded person will suffer the most, but fun suffering. So, you better make sure to blindfold an adult.
Select one person by the rock, paper, and scissor game. He/ she will try to catch the children while they make noises around him. If he/ she can grab someone, that person will be the next to blindfold.
The Old Fashioned Charade
Simple and, at the same time, complicated to play. It is better to select this game if you have younger kids.
Divide into two teams and collect ideas from movies, TV shows, thoughts, shows, and people's thoughts as long as they are actable.
Now, one team will act out a single concept. If the other team can understand the opposite team's acting and guess the correct meaning, then that team will win one point.
The winner will be declared by points counting after several games.
Three-legged Race (kid's special)
This game is all about cooperation, rather than having speed. Divide your guests into pairs and bound one of their legs.
The first pair crossing the finish line will win the game. This game will reflect the bonding between the parents and kids.
The Subtle Delicacy of Camping Themed Cake and Foods
How can we forget the most significant part of the birthday party food and the CAKE!
You don't have to worry at all. We have included some of the best camping birthday cake ideas, delight meals, and drinks to complete the menu.
Some of the best food and cake items to consider-
Camping birthday cake.
Homemade baked pizzas.
Ginger mint julep.
Camping Birthday Cake
The pleasant smell of a delightful cake will set all your guests in a satisfying mood. Also, the cake will represent the overall theme of the party.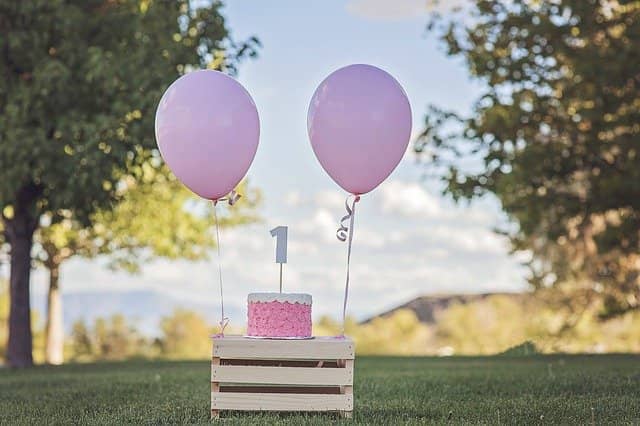 There are a lot of variables you need to consider. So, it's better to get your cake from a baking expert.
Things you need to consider for the camping themed birthday cake-
Size
Weight
Ingredients
decorations
Homemade Baked Pizzas
To spice up the joint, we recommend freshly home-baked pizzas on the table.
Here is a quick recipe for you-
Ingredients
1.4 ounces of yeast
1spoon sugar
1 cup of warm water
1teaspoon of salt
4 cups of flour
1.2 pound of beef
Onions your wish
Tomato sauce
3 spoon dried oregano
1 spoon dried basil
2 cups of cut mozzarella cheese
Directions
Dissolve the yeast and sugar in a large bowl of water. After 5 minutes, add salt and oil. Now add 1 cup of flour at a time until a soft dough forms.
Now form the dough flat and shape the dough until soft and elastic for 2-3 minutes. After that, place the dough in a bowl and grease the top.
Keep the bowl in a warm and dry place for 45 minutes.
In the meantime, cook the beef and onion.
Punch the dough and divide it two. Press both halves in the pizza pan. Combine the oregano, basil, sauce, and spread it over the dough. For the toppings, add your premade beef and onions.
Bake in 400 degrees Celcius for around 20 minutes. Wait until the crust is golden brown, which may take 15-18 minutes.
You can serve it with some extra cheese and sausage if you want to.
Ginger Mint Julep (adult special)
The guests will want something appropriate to drink for your adult guests. So we add an extra something that you can serve with the usual beverages.
It's a bit spicy, sour, and contains alcohol, so kids will definitely not like it. You can add fruit juices for them.
But there is a secret that you can do to make it appropriate for the kids. all you have to do is not to add the bourbons.
Ingredients
Ginger beer (6 ounces, it's edible for kids)
Bourbon (2 ounces)
Mint leaves (8)
Enough ice
Directions
In a glass, add three mint leaves, bourbon, and the ginger beer. Muddle the mixture until the mint has released its fragrance.
Fill the glass with small pieces of ice, add the remaining mint spring.
Serve it with a mint leaf on the top of the julep.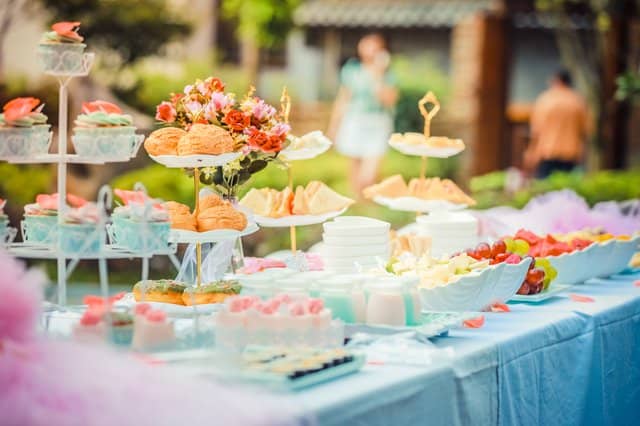 Concluding on Camping Birthday Party
Arranging a campout birthday party is all about the happiness of the guests, and most importantly, the birthday holder. If they are satisfied, then the party has any meaning.
Putting all those above ideas into one ultimate aspect will make your party a bomb. Or if you think you can follow one or two plans to make your campout themed birthday party perfection, then follow.
If you are searching, what to do for a 30th bday party, we would recommend you to follow the above ideas.
Remember, don't ruin the party for too much perfection. Sometimes simplicity is best for overall satisfaction.
If you have any queries regarding Camping Birthday Party, then please let us know in the comment section.
We will try our best to give you a proper response.
Have a nice day!
Hi, I am Michael B.McMahon. I am a professional Hiker, Traveler, Climber & Mountainer. I love to travel a lot. I describe my all experience in this blog. I visit a lot of places. I hope my all article helpful everyone. Enjoy It