In the market for the best backpacking mess kit, but you can't understand where to start?
We are now to assist you to get the best items with less effort. Our goal is to show you what is good, bad, and ugly of backpacking mess kits so that it takes a short time for shopping but more hiking.
We have searched in the recent market for the best backpacking mess kit and make a good, pretty comprehensive list. It helps you wade through the best product search result.
As it is a practical guide and let's jump into dive it.
In A Rush?
If you are in urgency, the best backpacking mess kit is:
MSR Quick 2 System Cook Set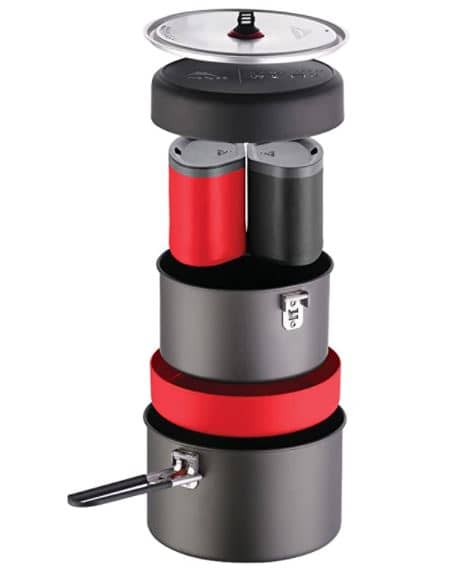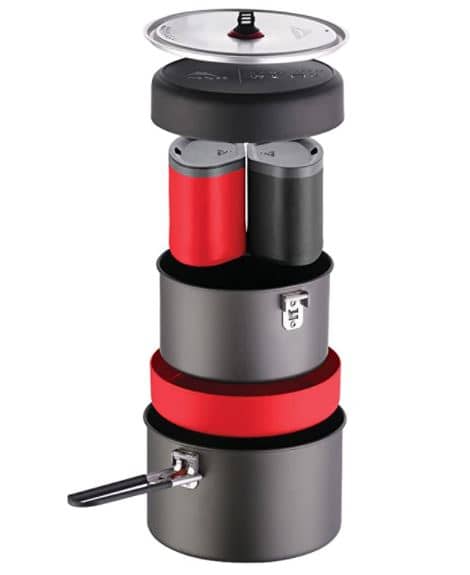 If you are searching for the best mess kit set for camping, we at first suggest you purchase the MSR Quick 2 system cook set.
Why?
It includes 7-pieces kits and everyone you need to cook in your camp for two persons.
Every tool of this set is lightweight, durable, and even heat-resistant.
You shouldn't worry about this mess kit set for camp ending up in the waste.
Our Top 7-Best Backpacking Mess Kit
Best Mess Kit Overall: MSR Quick 2
Best Backpacking Mess Kit: MSR 2 Person Mess Kit
Best Budget Buy: Light My Fire Camping Mess Kit
Best Camping Mess Kit: MalloMe Camping Mess Kit
Runner Up: UCO Camping Mess Kit
Best Worth: Bulin Camping Mess Kit
Best for Serious Camp Chefs:
Best for Serious Camp Chef's: REDCAMP Camping Cookware Mess Kit
Reviews Of The Best Backpacking Mess Kit
Below have some fantastic backpacking mess kits that will super durable and most demanded to the customers. They are appealing better, and many users are pleased with them.
So, take a short look at them and then must check the buying guide to get more advantages.
1. MSR Quick 2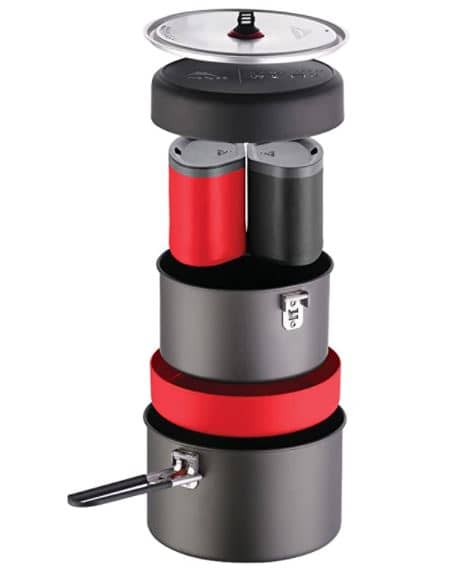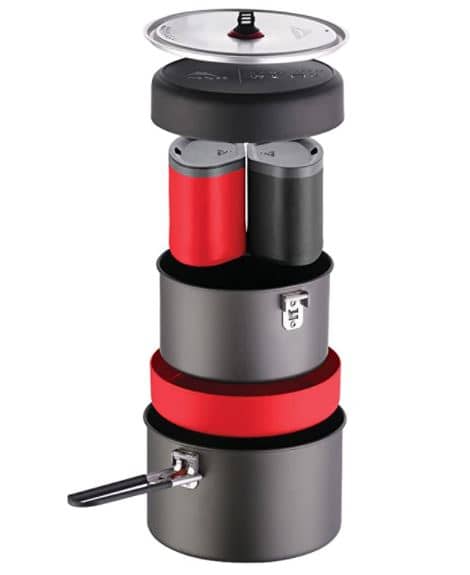 MSR brand is well-known for every type of good outdoor gear with Cascade design. MSR Quick 2 system mess kit is one of the models and it is the best mess kit for backpacking and for camping.
This mess kit lives up to the reliable, popular well!
At a Glance:
1-1.5L Non-stick Aluminum Pot
1-2.5L Aluminum Pot
2-mugs
2-deep dish plates
3-years warranty
This is a two-person backpack mess kit that has become well-known with hikers for a long time. It is light in weight, wide-ranging and contains all cooking and eating kit what you need for camping.
The insulated mugs nestle into the small pot when the plastic bowls sit atop it all.
When you want to transform the pots, you can apply the removable grip or knob it over. It is a good innovation to keep weight down when supply options for cooking.
We like of it non-stick aluminum pot, which one uncoated. So, you can pick anyone who can make sense for all types of meals. The pot included a pot strainer lid. This mess kit packs up properly with will suitable with any size bag.
What we like:
7-pieces comfortable storage plus packing.
All kits are fit inside the biggest pots with a double strainer lid which suitable for everything.
Larger pots let you cook more meals for large groups.
The pots are lightweight and aluminum.
The cups and plates are made from heat-resistant plastic.
Every kit is portable and sturdy.
What we don't like:
This mess kit set comes with a single removable handle for two pots.
You can't use both pots at a time to cook.
Best For:
It is perfect for those campers who have the intention to get all epic camping mess kit that can be used for larger groups. It is a compact mess kit with a great balance of versatility with brevity for hiking. 
2. UCO Camping Mess Kit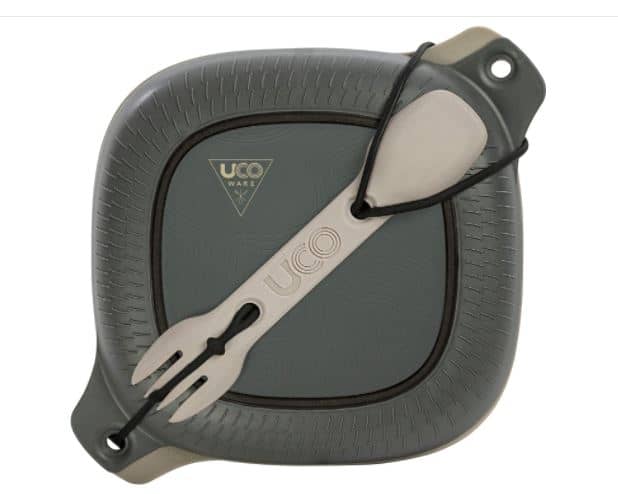 UCO is another most wanted brand in the market for providing the best backpacking mess kit at a reasonable price than others.
At A Glance:
6-pieces utensils
Polypropylene materials set
Lifetime limited warranty by the manufacturer
The UCO camping mess kit is a basic but perfect backpacking mess kit. It fits for those hikers who have a cheap budget and want to get something practical.
It is an ultra-durable and super compact set that is easy and faster to clean. Thanks to the dunk hang bundle pattern with a 3-in-1 spork feature spoon. This spoon is useful for versatile usage.
This mess kit set can set anywhere for its rubberized grip feature. So, the lid and bowl will make sure that they will keep safe and secure. They are curved to match all sides, and you won't need to miss any morsel.
This mess kit set is available in the market with three other nice color options. as a bonus
What We Like:
A quick and cheap solution
All utensils are sturdier
Comes from safe materials
What We Don't Like:
It doesn't include any pots or stoves
Some customers claim for portability
Best For:
The UCO camping mess kit pack is the best budget mess kit for camping or backpacking. It is certified as an FDA food-safe kit pack, which is suitable, safe, and comfortable for outdoor camping. 
3.MSR 2 Person Mess Kit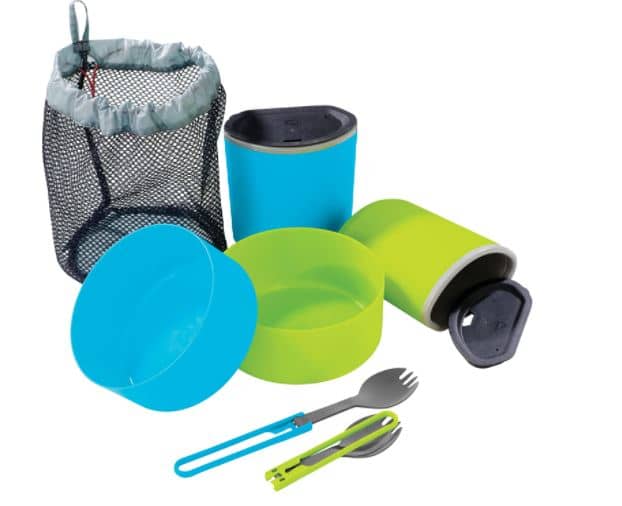 MSR achieve another spot in this list with their 2-person mess kit. It is different from MSR quick system because it doesn't include any cooking pots without camping mess kits.
At a Glance:
2-mugs
2-bowls
Two folding sporks
1- breathable storage bag
At a gentle 13.2 ounces for two people, which will serve well under a ½-pound every for a complete camping mess kit. When other backpacking mess kits don't have as many whole items, we believe it does a great job of supplying the all essential tools.
The camping mess kits are suitable for two persons who keep meals enjoyable with a hot drink. For oatmeal with a warmer dinner, you must rely on simple and easy bowls.
Coffee goes into the mugs so you can get pleasure from your pack-up camp and get prepare ready to hit the trail for the camping day. Think about if you don't get a little mug for the coffee; you should drink it out of the bowl.
What We Like:
Compact and lightweight mess kit set
Suitable for two-person
Colorful utensils
Plates deep to double as bowls
Insulated cups really good
What We Don't Like:
Folding sporks maybe feel complex to handle
No pots or saucepan.
Best for:
This backpacking mess kit pack is ideal for those who hike with their partner to keep their meals simple. It is a compact camping mess kit with top-quality materials and an upright eating system, and this mess kit model is a perfect deal. 
4. Light My Fire Camping Mess Kit
Light My Fire is a well-known brand for its plastic fork combo utensil. They expanded into the whole line of camping cooking meal kits for hikers.
This mess kit doesn't include a pot or pans, which make it a traditional meal kit set minus also stove.
At A Glance:
8-pieces meal kits
Reusable camping set & BPA free
All in all, camping set
If you search for something versatile, spending less, you pick this Light My Fire camping mess kit. This kit set includes a foldable cup for a hot drink. Every backpacker or camper loves to drink coffee in their travel, and they must like a mess kit set, which includes cups.
The whole kit is surprisingly lightweight and compact size, and you can slip it into the backpack without any issues. There have multiple colors to select from, and the snap boxes are waterproof protection, BPA-free, as well as dishwasher plus microwave safe.
This kit pack is not only the best lightweight backpacking mess kit but also budget-friendly. It works as a solo kit which will be the right choice for any camping.
What We Like:
Waterproof & BPA free
Microwave and dishwasher safe
Rubber harness puts all items in place while moving
Lightweight & Cheap than other models.
What We Don't Like:
Plastic spork can bumpy to breaking
Some consumers reported that they couldn't pack it tightly.
Best For:
This mess kit set is the best mess kit for boy scouts and hikers who already have stoves and pots to cook their meals and plates for serves.
5. MalloMe Camping Mess Kit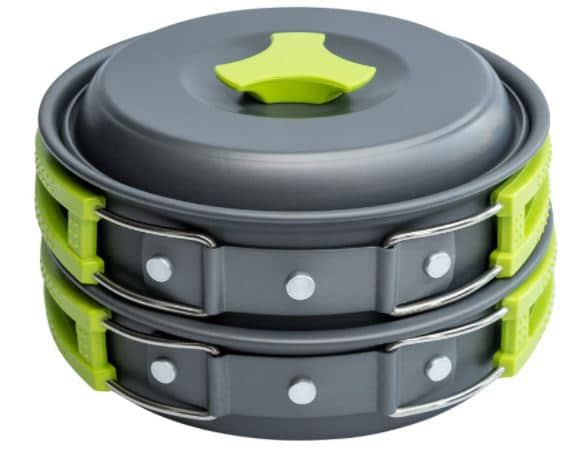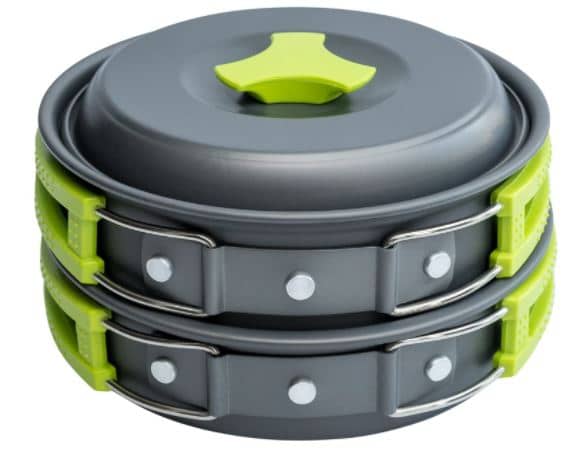 MalloMe Mess Kit is the most familiar brand for a camp mess kit, and users left a lot of reviews with praise. So, you can rely on this kit pack without any confusion.
At A Glance:
10-pieces camping kit set
1Littre Pot
Free one cookbook
It is a handy mess kit including every essential item for next camping, hiking, or backpacking. The good touch of it is a free cookbook though this set is suitable for one person travel.
The compactness of this set makes it more incredibly easy to carry without feeling weight. The pots nest fine for easy packing with each other.
The plastic handles are sturdier, and so you don't need to worry about dropping any meals. Since it is made for a single-person camp, the small-sized cup is also well for even adults. Every item of it is durable and reliable to last so many backpacking or camping journeys.
What We Like:
Well-built handles work well to keep a steady hold.
The suitable lid snug to assist trap heat and for so fast cooking.
Fast, easy, and simple to clean all items.
What We Don't Like:
Small size cups can make trouble sometimes.
Suitable for single backpackers.
Best For:
It is the best for a more superior bulky mess kit but can have well than many backpackers need. This small-size mess kit pack fits well for one person that provides a long-lasting, ever-heating cooking experience.
6. Bulin Camping Mess Kit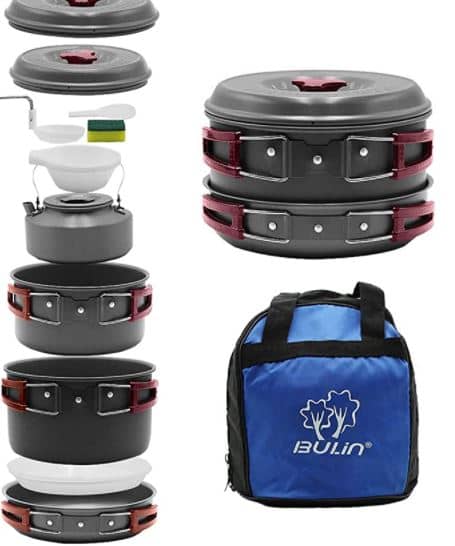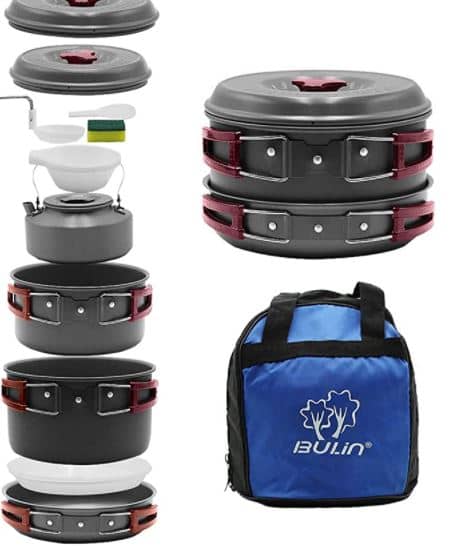 Bulin always concern about providing a good set of kitchen tools to passionate camping lovers. Many hikers gave positive reviews and praised about Bulin camping mess toolset. So, if you are a zealous camping lover, you must consider this set to make your next journey smooth.
At A Glance:
13-pieces mess kit included in this set
Made with food-grade material for a healthy life
Ideal for two to four persons
This Bulin camping mess kit pack offers a comfortable and condensed package. Including non-stick surfaces, you can cook any meal faster. Also, the food-graded material is planned to survive insensitive high temperatures. So, the kits have to very last for special trips without showing wear.
The pot's handle doesn't heat-resistant so, you should be careful to use it and wear hand gloves when it is too hot. This kit set contains all items that need for a trip or backpacking, like pots, bowls, plates, and kettles. It is ideal for family or couple backpacking trips. The kits are foldable, and you can pack them easily.
What We Like:
The kit will fit in your small size backpack
Great durability over a fire
Steam hole on the lids help to remove boil over
What We Don't Like:
The handles aren't heat resistant
Not suitable for large camping groups
Best For:
For ultimate family backpacking, the Bulin camping mess kit offers enough supplies with the most advantageous sturdiness with space-saving and foldable design. It is also the best for a serious person who wants to pick whole stuff for best camping.
7. REDCAMP Camping Cookware Mess Kit
REDCAMP is the most wanted brand in the current market and a professional outdoor element brand. Most campers would like to get their mess kits from here.
But why? The features, quality, design, and a complete mess kit set. REDCAMP camping cookware mess kit is one of the best backpacking sets.
At A Glance:
9-pieces mess kit
Save money & Space
1-year limited warranty
If you prefer any deeper opts for boiling, this set will be the best choice for your next camping. Many hikers like to use a 1L pot for cooking or boiling water, but you need some other more tools with this. This mess kit set has a good balance from every angle.
Let's clear why advertised this 9-pieces mess kit set. This backpack cookware is lightweight, and you can carry it easily and pack it simply with your backpack. The highest quality aluminum pots are great for cooking any food and easy to clean.
What We Like:
Made for outdoor life
Best for a better outdoor experience
It is extremely light and small
100% brand new and high-quality mess kit set
What We Don't Like:
This set doesn't include a stove, and you need to buy it separately
You need to concern about the handle of the pot.
Best For:
This mess kit is the best for six-person camping groups. The pot has a great volume and the second one best for sauce or beverages.
Best lightweight backpacking mess kit – A Guide
There have different aspects of speaking that can advantage you in finding not the best backpacking mess kit but the perfect one for your next trips.
This guide below tackles these topics and much more to get the best camp mess kit and start the next journey.
Types Of Backpacking Mess Kit
Most of the backpack mess kit works as cookware, and they frequently include in a mess set. It is great for starting level to expert level hikers who need to cook plus enjoy meals in their wilderness.
Backpacking mess kits made to work as a launch box also. You can carry homemade foods to the school, workplace, office, or while hiking. But it can't be used as cookware. They are always made out of BPA-free plastic and a tight lid to eliminate leaks.
Mess kits for camping always work as tableware. You will need a bowl with plates in your wilderness life and even need to bring your meals to your workplace or school. But a mess kit has to be able to work as a portable bowl or plates to enjoy your meals.
You also can choose disposable mess kits that come from cheap paper, plastic or wooden materials. You just make sure that they are eco-friendly and allow you to bring them on outdoor or camping trips.
Choose The Best Materials
It is a very common material with so many mess kits that will be used as cookware. This kind of material is more affordable but not expensive, making it good for backpacking for beginner-level hikers.
Plastic materials are common for tableware mess kit sets. Most camping cookware sets are made of anodized aluminum where include plastic tableware as well. But you have to ensure that those plastic kits are BPA-free and toxin-free.
This material is very durable, rust-resistant, and scratch-resistant. We always prefer to choose stainless steel backpacking cookware. This material heats up quickly and cooks so faster.
Titanium is better than stainless steel, and it is very durable, scratch-resistant, and heats up well. But one problem this type of material is very expensive. Titanium cookware is always very thin and lightweight. So, backpacking mess kit titanium is ideal for any camping.
Most tableware and other mess kit set is made out of wood. Chopstick is the most common item among the items. Many campers would like to bring disposable wooden chopsticks for the flatware for best backpacking.
It is also the best material for cookware but is very heavy. For this motive, lots of groups don't like to carry it for their long trip. However, a lot of hikers also like to cook steak or beef using cast iron cookware sets.
Consider Health Concerns
Teflon non-stick coating is used on hard-anodized aluminum cookware. It is a nonstick coating that makes cleaning or cooking easier. There have many controversies if Teflon is safe and non-toxic.
Ceramic Non-stick coating
Ceramic non-stick coating is similar to Teflon, and it makes it easier to clean the cookware and faster cook. This material is considered extremely safer than Teflon and also very expensive than Teflon.
If you think to pick a plastic mess kit, we suggest you check that they are BPA-free or not. BPA is identified to be poisonous, which is not safe for our human body.
Other Facts
You have to think about the number of kits and pieces inside the pack. It will be the best to ensure you recognize all items which help you to prepare for camping.
The weight of backpacking mess kits can matter much more. You have to bring many other items like a tent, sleeping bags, and other essential items.
Multi-purposes and versatile backpacking mess kit set includes cookware, tableware, essential utensils, lunch box, and dinnerware. For the wilderness life of camping for a few days, this type of pack will perfect.
Picking a compact mess kit set is an amazing idea. You will have limited space for your kit set in your backpack. So, a foldable and nested design or compact mess kit set will be helpful to bring easily saving space.
The backpacking mess kits have to be easy to clean. There has many mess kit set which is very hard to clean and make an obstacle in your trip.
It is most significant to know about the handle of the pot with the mess kit. Many mess kits are available in the market with terrible handles, and some are flimsy or melt easily.
If you are in the market to get a mess kit only for cooking purposes, you have to ensure campfire safety. A campfire will engulf complete cookware. If the mess kits set isn't campfire safe, that can be damaged.
Backpack Mess Kit FAQ
Q: What is the Mess Kit?
A: The mess kit is a cooking gadget or accessories that make your life comfortable and convenient for camping or hiking, or any other outdoor activities.
Q: What does it include with a backpacking mess kit set?
A: A camp mess kit makes a pack with some essential tools like pot, bowl, stove, mug, spoon, lids, pan, cups, and so on.
Q: How can you clean a mess kit?
A: Some camping mess kits come with accessories that make the cleaning process easier, like sponge or napkins. Otherwise, you can simply clean all kits using light mild soap and sponge or follow the kit set's instructions.
Q: Why Mess kit set is necessary?
A: If you want to make your wildlife better, you need to pick a mess kit. A mess kit for camping contains all essential kitchen gadgets to make it easy to cook any meals. They are normally compact, lightweight, don't need more space to store, and are easy to bring anywhere.
Wrap It Up!
If you are ready to change the process of your eating way while camping, you have to invest in the best backpacking mess kit. They come with versatile materials with a lot of different features, which we have already discussed above.
All of the kit set of our list has chosen from reputed brand maintaining the quality to save your time. Now you can invest your valuable money in one of them, and even we recommend them under your budget.
We hope you will be happy with those high-quality and budget-friendly backpacking mess kit sets.
So, have good camping with the best backpacking mess kit!
You May Also Like: How Much Firewood Do I Need For Camping?
Hi, I am Michael B.McMahon. I am a professional Hiker, Traveler, Climber & Mountainer. I love to travel a lot. I describe my all experience in this blog. I visit a lot of places. I hope my all article helpful everyone. Enjoy It