Are you looking for the best backpack under 50? You have probably landed on the right page. Whether you have plans to travel abroad, go to work, or down the trail, a quality backpack is one of the essential items you will need. Just because you are not in a position right now to spend lots of cash doesn't mean that you should compromise on quality, durability, and essential features in a backpack.
The good news is, you don't have to pay more to get the best! In my detailed review below, I will show you only the best packs, not more than $50 that you can buy. I have done thorough research for you and came up with five exciting options you can choose. The backpacks are surprisingly spacious, stylish, and comfortable designed to meet your fashionable lifestyle. Scroll down to find a perfect bag for yourself.
1. HIGH SIERRA LOOP BACKPACK
Are you going somewhere? If you are a student or a professional always on the go, High Sierra Loop Backpack is an ideal option. It is one of the best-known packs among avid campers and hikers. Besides, it is also a highly stylish pack that would cater to multiple activities when going to work, school, gym, lunch, or anything life throws at you.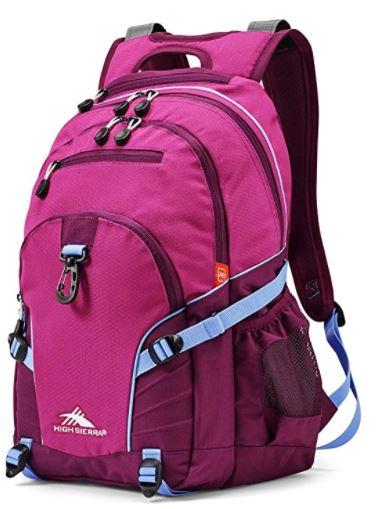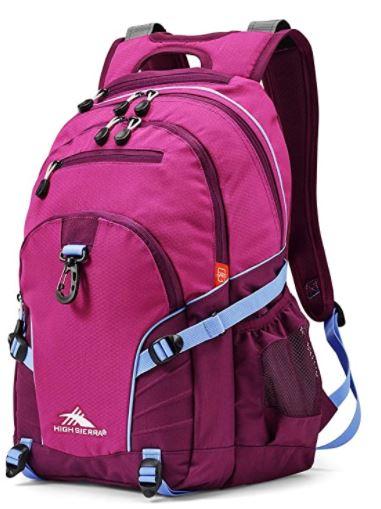 Important features
Highly spacious compartments
It has several compartments to stash in all your devices and essentials. Professionals and students alike will appreciate that the pack is an all-around bag to carry multiple things at a go.
Interestingly, the pack has mesh side pockets to place your beverages in a safe position. Besides, it also has an organizer pocket to keep your keys and small items secure. Lastly, the exterior pockets present help you to reach for your valuables when you need them quickly.
Durable and water-resistant materials
The backpack gets made with 500 x 500-Denier waffle weave ripstop Duralite fabric that is waterproof. Such an exciting feature makes it possible for backpackers who frequently commute and hike on unpredictable weather conditions.
Comfortable shoulder pads
It has non-slip adjustable shoulder pads that distribute weight evenly on your shoulders. You can adjust them to accommodate your height and weight.
It has adequate pads on the back to provide great comfort. You don't have to worry about the weighty materials in your pack. Gone are the days when you end your day with a sore back due to bag choice.
It has a significant capacity of 33L with a yoke-style S-shaped to carry weightier loads for you. It doesn't matter if you fill-up your bag to its full size.
What we liked
Highly versatile
Has multiple compartments
The quality suspension system for shoulder straps
Bottom straps to support additional items
What we didn't like
It doesn't have a padded top hence not safe to carry laptops
No breathable mesh on the back panel
2. LOOWOKO HIKING BACKPACK 50L TRAVEL CAMPING BACKPACK WITH RAIN COVER
If you are looking for a high capacity bag on a small budget to carry all camping items, Loowoko Hiking Backpack is a perfect choice for you. It is one of the best backpacks in the modern market to cater for all your hiking needs.
Important features
The backpack's exterior is waterproof to prevent your valuables from getting wet on a rainy day. It also comes with a rain cover that guarantees all your stuff in the bag safety and dryness you need to keep them in good condition.
It has side pockets that can stretch to hold your refreshment beverages. Besides, it will give you easy access to your items on the sides with such unique pockets.
I loved the pack because it has different spacious compartments to keep all your gear safe and organized. You won't have any issue stacking all your gear in the bag. Apart from the top-loading main compartment, it also has a dedicated shoe space to safely stack all your hiking shoes.
Several attachment points
It has lots of external attachment points to carry all your bulky gear. Side compression straps present in the pack hold sleeping pads and bags with other bulky items. Moreover, the bag has dedicated attachment points meant for hiking poles and multiple webbing straps. Such straps allow you to attach a carabineer effectively.
The pack features comfortable and thick padding with breathable mesh all round. It allows you to carry your luggage with great ease. Besides, the bag also has a comfortable hip belt that hugs your waist nicely so that you don't feel the heavyweight of the backpack.
What amazes many with the backpack is that it can hold up to 88lbs of gear. The bag has a large capacity of 50L and can carry hiking items to its full size without wear or tear.
What we liked
Comfortable and adjustable straps
Excellent for hiking and camping trips
Comes with a rain cover
Can carry a large amount of gear
Waterproof
What we didn't like
Has no MOLLE panels
No ice ax attachment points
3. LAPTOP BACKPACK 17 INCH WATERPROOF EXTRA LARGE TSA TRAVEL BACKPACK
Do you need a quality pack to carry your laptop? Laptop Backpack 17 Inch is a good one for you. It is ideal for keeping your device safe from external damage. You can travel for a long distance comfortably with your laptop bag on your back.
Important features
The backpack offers a convenient functional design. It gives access to power with a portable USB outside. Besides, it also has a set-in charging cable to help you charge your phone and other devices while walking.
We also liked a flat design in the bag. It helps you organize your items well and open up 180 degrees, especially when going through an airport security check.
It has a large capacity of 45L to allow you to pack more items in the bag. The pack is suitable for computers and laptops, measuring 17.3 inches. Interestingly, it has 15 functional pockets to help you keep your handy items safe and well organized for easy access.
The laptop backpack gets made with high-quality waterproof material. It gets made with high-quality polyester fabric material that lasts for a long time.
It features a double-sided smooth zip with reinforced stitching to last forever. With such zippers, they provide immense safety to your items during rainy days.
The pack gets uniquely covered with mesh on the back. It provides comfort when carrying your items and helps you not feel the heavyweight on your back.
What I loved about the backpack is that it has anti-theft zipper pockets on the back. They keep your valuable items safe and secure. Similarly, easy card zipper pockets give you easy access to your cards, keys, and coins.
You can use the backpack for multiple uses such as a traveling backpack, laptop bag, college pack, overnight trip bag, or business backpack. It's practically ideal to carry it anywhere to serve your traveling needs.
The backpack is super comfortable. It has smart luggage sleeves to help free your hands and back while traveling.
What we liked
Mesh back system for comfort
Anti-theft features
Durable materials
Well-built and sturdy
Spacious compartments
Organizational pockets
Smart sleeve to secure luggage handles
What we didn't like
External pockets are slightly unusable when the backpack is full
Slim compartments can't hold heavier items
4. HYNES EAGLE TRAVEL BACKPACK 40L FLIGHT APPROVED CARRY ON BACKPACK
Are you in search of a new travel backpack? It is, without a doubt, the best travel backpack trending in the current market. Besides, if you want to avoid paying airline baggage fees, the pack is the best choice for you. Surprisingly, it has a more weight capacity than regular suitcases. It means that you will pack more items into the pack while staying organized. Check its amazing features below.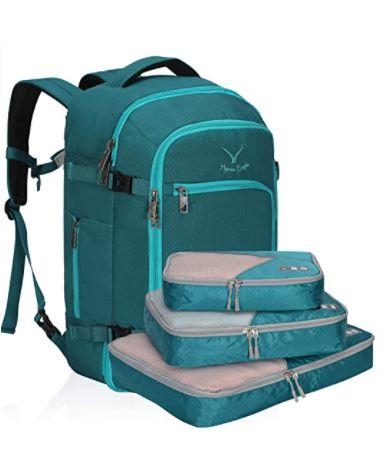 Important features
It has a reasonably water-resistant polyester exterior. It helps to keep your valuable items in the pack safe and dry. Besides, it has a pretty well resistant to wear and tear
The backpack gets specially designed to fit into the maximum allowable size in IATA flights. Interestingly, it quickly goes underneath and overhead the seat and compartment storage even when packed to its full capacity.
It gets made with durable grab handles on the top and the sides of the bag. They help to provide you with safe and efficient lifting from overhead trunks and compartments.
The product features an abundance of internal and external compartments. The compartments ensure that you find a dedicated spot for everything you wish to carry. There are three external compartments on the pack.
Similarly, the main compartment has a bigger space with internal compression straps and pockets. On the other hand, there is a more substantial front compartment with sleeves to keep your laptop, tablet, and other accessories safe.
The pack has zip-mesh pockets on the sides great for keeping water and beverage bottles. Besides, there are interior slot pockets to keep smaller travel essentials safe.
What I loved about the backpack is that it has several exterior compression buckle straps to help you adjust the bag to match your height. Moreover, for added stability, the carrier has an adjustable sternum strap.
What we liked
Has multiple compartments for an easy organization
Saves time at the airport
Comfortable and adjustable straps
Durable materials
Large capacity
What we didn't like
Lacks a back structure and padding
Not convertible
5. OSPREY DAYLIGHT DAYPACK
If you enjoy hiking, cycling, or exploring outdoors, you will need a quality Osprey Daylite Daypack. Osprey is a highly reputable brand with technical designs that impress even the most experienced campers and backpackers.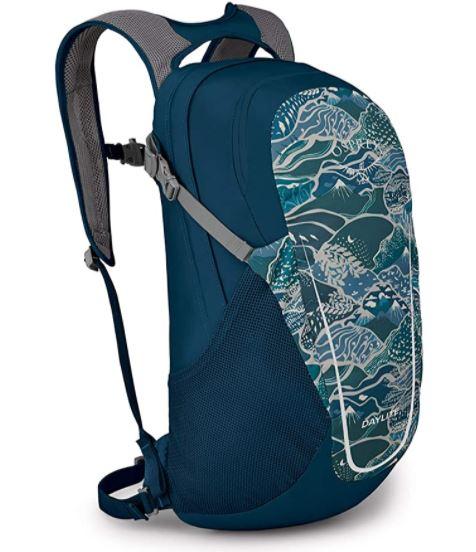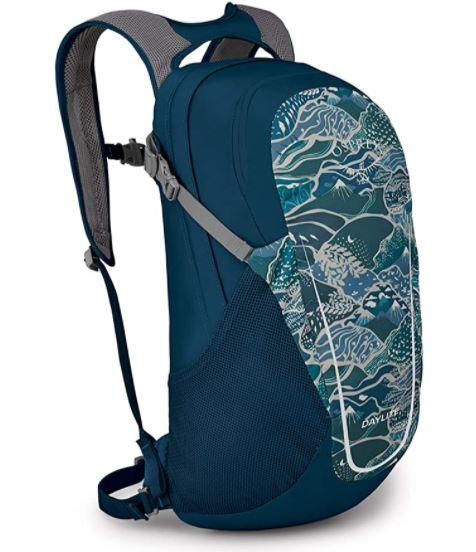 Important features
It is quite light and only weighs 1lb. With this in mind, you will forget about back pains as you can carry the pack around effortlessly.
What impressed me about this pack is that the bag gets made from 210D nylon fabric for excellent durability. It makes the bag wear-resistant hence lasting for many years without tearing.
The bag is quite comfortable to carry due to its mesh-covered back panel. It also has a slotted foam that feels soft against your body to comfort you as you take the pack. Besides, the breathable mesh on the bag keeps you cool and dry even during hot weather.
It has three compartments to give you enough space to organize your belongings inside the backpack. The main compartment is bigger and has a wide opening for easy access to your items. On the contrary, the front compartment is smaller. It has a couple of slip pockets and a key clip for easy organization of little things.
Interestingly, it also has a hidden compartment behind the back panel. It gets specially designed to hold a hydration bladder. It is a fantastic feature that makes the pack more versatile and modern.
The backpack also features stretchy side pockets. They easily hold water and beverage bottles of all sizes.
It has compression straps on the sides to stabilize the load on the bag, especially when it is not full. Moreover, with the straps in place, you can keep bulkier stuff on the side pockets.
What we liked
Comfortable back panel
Versatile in use
Harness design
Compatible with other packs
Nice selection of colors
Lightweight
Durable
What we didn't like
Fewer pockets
Has a very compact capacity
Mesh pockets are not suitable for bottles
BUYING GUIDE: WHAT ARE THE ASPECTS TO CONSIDER BEFORE BUYING A BACKPACK UNDER 50
Having read through my top 5 backpacks, you now have the best insight into perfect packs. However, that is not the end; you need to master a few things before purchasing a beautiful bag that fits your carrying needs. Continue reading.
1. Material
Before you purchase a backpack, no matter what purpose it gets meant for, choose a pack made with durable material. Sturdy water-resistant polyester fabric is common robust material used to endure extreme weather conditions.
Besides, make sure that the backpack you take home is strong enough to cope with the weight intended to carry.
2. Straps
It is essential to feel the level of padding on the straps and how easy they are to adjust. After all, there is no point in purchasing a pack with all essential features but is uncomfortable on your shoulders.
3. Warranty
Choose a backpack with more extended periods of warranty. Ensure that you understand their terms of service before you purchase one. Some packs come with a lifetime guarantee, while others offer replacements over a limited time frame.
4. Zippers
In my experience, one aspect that can let you down is a zipper. Ensure that you choose good quality and sturdy zippers to keep your items safe. Beware that if you select a backpack with a low-quality zipper, your details falling off are high. Hence, no matter the kind of pack you choose, consider purchasing one with quality zippers.
5. Size
An experienced backpacker will not miss to tell you that traveling and camping is a balance between carrying necessary items and accessories. It is not all about burdening yourself with unnecessary luggage.
Hence, before you purchase a pack, think carefully about your bag's purpose, where you are going, and the days you will spend camping. Choose the smallest size that will accommodate your necessities.
6. Compartment system
You will agree with me that after going through my reviews on the top 5 backpacks, bags with multiple compartments are the best. Select a pack with various chambers of different sizes to accommodate all items of various sizes.
7. Weight capacity
If you have plans to move around hiking and camping, you will have to choose a pack that weighs less than 2lbs. You wouldn't wish to haul around with a more massive bag. That said, if you have more weight to carry, choose a pack with sturdy straps that are up to the task.
WHAT ARE THE FREQUENTLY ASKED QUESTIONS (FAQs) Of Best backpack under 50
Can you get a new backpack under 50?
The deal is too sweet to accept, right? There are plenty of quality backpacks out there that will help you save a few bucks. Scroll up to our reviews, and you won't miss finding one that would cater to your needs.
How long can I expect my backpack to last?
It would much depend on how frequently you will use your pack and the type of bag you choose. Our backpacks above are made with robust material to last for a long time. If you want to extend your backpack's life, I advise you not to overload your pack. It would strain the straps and seams shortening the life of your travel bag.
Can I wash my backpack at home?
If you wish to clean your pack at home, it is advisable to read the manufacturer's instructions first. Washing would entirely depend on the type of material your bag is made from and whether it has an internal frame.
Where is the right place to buy a cheap and quality backpack?
Worry no more! Our review list above will give you everything you need. I have identified reputable brands for you. All you have to do is choose what you need at a lower price yet quality.
CONCLUSION
Deductively, whether you are a professional, a student carrying books to school, or an experienced hiker, you will need a good backpack that would last forever. I have done the hard task for you and reviewed the best bags under 50 to suit all types of needs. With our reviews, you are sure to find one that matches all your needs. Go through our top-rated products, and you won't get disappointed. If you need to go Camping Then you need more Things for Hiking like Backpacking Tent, Camping Shovel, Saw Camera For Hike Happy Reading.
Hi, I am Michael B.McMahon. I am a professional Hiker, Traveler, Climber & Mountainer. I love to travel a lot. I describe my all experience in this blog. I visit a lot of places. I hope my all article helpful everyone. Enjoy It