Are you an adventure seeker looking to embark on a thrilling journey to Havasu Falls? Look no further! In this ultimate guide, we will provide you with all the tips and advice you need to plan your trip to this breathtaking destination. From getting to Havasu Falls and what to pack, to must-see destinations and activities, and making the most of your camping experience, we have you covered. So, get ready to explore the beauty of Havasu Falls and create memories that will last a lifetime. Let's dive in!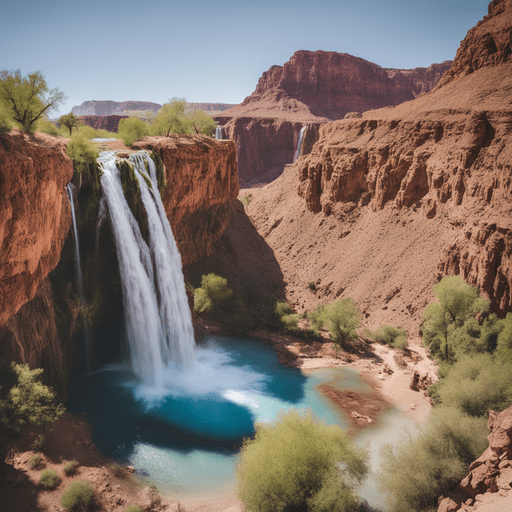 Planning Your Trip to Havasu Falls: Tips and Advice
Planning a trip to Havasu Falls is an exciting adventure for adventure and travel enthusiasts. Located in the Havasu Canyon, a side canyon of the Grand Canyon, Havasu Falls offers a stunning contrast between the arid desert landscape and the lush vegetation near the water. There are five Havasupai Falls to explore, including Navajo Falls, Fifty Foot Falls, Havasu Falls, Mooney Falls, and Beaver Falls.
To visit Havasu Falls, it is important to make a reservation in advance. The Havasupai tribe limits the number of visitors to maintain the pristine beauty of the area. Reservations typically begin at the start of each year, and it is crucial to book early as permits are often claimed within hours of becoming available. The cost of the reservation is $100-$125 per person per night, including all taxes and environmental fees.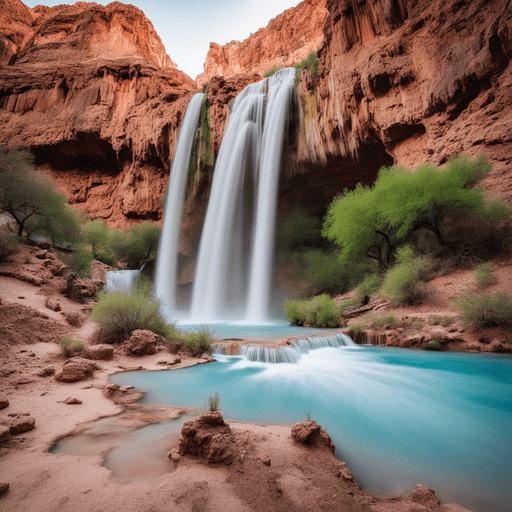 For groups, it is recommended to have one member purchase all permits to ensure everyone gets the same dates. Once you have a permit, it is important to keep your receipt with you as there are checkpoints to verify payment.
Opening Day is when campground reservations for the season go on sale, and it is crucial to be prepared and ready to book on that day. To increase your chances of securing a reservation, create an account on https://www.havasupaireservations.com prior to opening day.
When planning your trip, it is important to research and set realistic expectations. The hike to Havasu Falls is strenuous, and a permit is required to stay overnight. It is recommended to spend three or more nights to fully explore Havasu Falls and the surrounding area. The hike to Havasu Falls is a ten-mile hike, starting at the trailhead. It is advisable to have a detailed guidebook and to be prepared with the necessary gear.
Once you reach Havasu Falls, you can enjoy a one-of-a-kind camping experience. There is a campground near the falls where you can set up your tent and enjoy the beauty of the area. You can also spend time hiking, taking photographs, and relaxing by the beach area, listening to the sound of falling water.
Visiting Havasu Falls is a bucket-list adventure for experienced hikers. If you prefer not to hike, there are also tours available that can take you to Havasu Falls. Regardless of how you choose to access Havasu Falls, it is sure to be an unforgettable adventure in the beautiful desert oasis.
Getting to Havasu Falls: Directions and Trailhead Information
After planning your trip to Havasu Falls and gathering all the necessary information, it's time to focus on getting there. Havasu Falls is a popular destination known for its stunning natural beauty, and this blog provides detailed directions and trailhead information to help you successfully navigate your way.
One of the great things about visiting Havasu Falls is that it can be done year-round. Whether you're planning a trip in January or July, the information provided in this blog is applicable for all months of the year, allowing you flexibility in choosing the best time to visit.
The trailhead information provided in this blog also caters to various group sizes. Whether you're a solo traveler, a couple, or part of a larger group, there are options available for everyone. This ensures that no matter the size of your party, you can plan your trip to Havasu Falls accordingly.
Furthermore, the distance options provided in the trailhead information offer flexibility for travelers who may be located at different distances from Havasu Falls. Whether you're local and just a short drive away or coming from up to 100 miles away, there are options available to suit your needs.
In addition to directions and trailhead information, the blog also includes price ranges. This allows you to budget and choose an option that fits your financial situation. By providing comprehensive information, this blog aims to help you plan and navigate your way to Havasu Falls, ensuring a successful and memorable adventure.
What to Pack for Your Havasu Falls Adventure
When embarking on a Havasu Falls adventure, hiking into the falls is widely regarded as the best way to fully experience the trail and waterfalls. To make the most of your trip, it is recommended to spend at least 2 nights and 3 days backpacking along the Havasu Falls Trail. This will allow you ample time to explore the area and truly immerse yourself in the beauty of the waterfalls.
It's important to note that the Havasu Falls Trail is a 25-mile hike roundtrip, requiring the appropriate backpacking gear. To ensure you are well-prepared, it is advisable to consult the Complete Guide to Hiking Havasu Falls, which provides detailed information on camping, permits, weather, photography, and more. This comprehensive resource will help you plan your trip and set realistic expectations.
Planning your packing list in advance is crucial to ensure you have all the necessary gear for your Havasu Falls adventure. While Havasu Falls is considered a great trail for beginner backpackers, it's important to either borrow, buy, or rent the appropriate backpacking gear for your trip. This will ensure your comfort and safety throughout the journey.
To learn more about the Havasu Falls Hike and get a comprehensive packing list, be sure to click the link provided. With proper preparation and the right gear, you'll be ready to embark on an unforgettable adventure to Havasu Falls.
Exploring Havasu Falls: Must-See Destinations and Activities
As adventure and travel enthusiasts, visiting Havasu Falls is a must-do experience. Located in the Grand Canyon in Arizona, these falls are famous for their stunning turquoise waters. But what makes Havasu Falls truly special are the various activities that can be enjoyed there.
One of the top activities at Havasu Falls is hiking. The hike to reach the falls can be challenging, but the effort is well worth it for the breathtaking views that await. Along the way, hikers will be treated to stunning landscapes and natural beauty that can only be found in this unique part of the Grand Canyon.
Once you arrive at Havasu Falls, camping is a popular option for visitors who want to fully immerse themselves in the beauty of the area. Spending the night allows you to experience the peacefulness of the surrounding nature and wake up to the sound of the falls. There are designated camping areas available, and it's important to plan ahead and make reservations in advance, as access to Havasu Falls is limited and popular among tourists.
Swimming is another activity that visitors can enjoy at Havasu Falls. The water is perfect for a refreshing dip, especially during the hot Arizona summers. You can relax and soak in the beauty of the falls while taking a break from the hike or camping.
For those looking to explore beyond Havasu Falls, there are other stunning waterfalls in the area, such as Mooney Falls and Beaver Falls. Each of these waterfalls offers its own unique beauty and can be reached by continuing along the trail. This adds to the adventure and allows for even more stunning views and photo opportunities.
It's important to plan your trip well in advance and do thorough research to know what to expect when visiting Havasu Falls. This includes understanding the permit requirements, knowing where the trailhead is located, what gear and supplies you'll need, and any other important information. Access to Havasu Falls is controlled by the Havasupai tribe, so it's essential to respect their rules and regulations.
Overall, exploring Havasu Falls is an adventure that should not be missed. Whether you're an experienced hiker or just looking for a one-of-a-kind camping experience, Havasu Falls offers something for everyone. The beauty of the falls, the surrounding nature, and the unforgettable experiences make this a bucket-list destination for any adventure traveler.
Making the Most of Your Havasu Falls Camping Experience
Havasupai Falls is a destination that is often described as beyond incredible and indescribably beautiful. It is a place that words cannot fully capture, but this blog post aims to provide a comprehensive guide to help adventure and travel enthusiasts make the most of their Havasupai Falls camping experience.
The post covers a wide range of topics, including permit information, travel planning advice, packing list, hiking recommendations, and photography tips. However, one of the most challenging aspects of visiting Havasupai Falls is getting a permit, especially during peak times. The author shares their personal experience of struggling to secure a permit due to high website traffic and the frustration that comes with it.
In terms of reservations, it is important to note that weekday nights (Monday-Thursday) cost $100 per night, while weekend nights (Friday-Sunday) cost $125 per night. Reservations require a minimum stay of 4 days and 3 nights, which the author suggests is the perfect amount of time to fully experience and appreciate the beauty of Havasupai Falls.
Throughout the blog post, readers will find stunning pictures of Havasupai Falls that aim to give them a glimpse of its extraordinary beauty. These pictures alone are worth a million words and serve as a testament to why Havasupai Falls is a sought-after destination for adventure seekers.
Whether you are an experienced hiker or someone looking for a one-of-a-kind camping experience, this blog post serves as a detailed guide to help you plan your epic adventure to Havasupai Falls. From booking your stay to hiking the trail, camping, photography, and packing the right gear, this post covers all the essential information you need to make the most of your visit.
In summary, Havasupai Falls offers a bucket-list adventure that is sure to leave a lasting impression. By following the advice and tips provided in this blog post, you can ensure that your experience at Havasupai Falls is nothing short of incredible. So get ready to embark on an unforgettable journey to one of the most breathtaking destinations in the world.
All in All
As you conclude your journey through this ultimate guide, we hope you feel equipped and excited to embark on your adventure to Havasu Falls. From the moment you set foot on the trailhead to the awe-inspiring sights and activities that await you, Havasu Falls promises an unforgettable experience for adventure and travel enthusiasts.
Remember to plan ahead, pack wisely, and make the most of your camping experience to truly immerse yourself in the beauty of this natural wonder. So, gather your gear, embrace the thrill, and get ready to create memories that will last a lifetime at Havasu Falls. Happy exploring!
Hi, I am Michael B.McMahon. I am a professional Hiker, Traveler, Climber & Mountainer. I love to travel a lot. I describe my all experience in this blog. I visit a lot of places. I hope my all article helpful everyone. Enjoy It