Our main problem is cooking when we go camping, hiking, or go waterway for the whole night. Sometimes this problem gives you a horrible experience. When you have the best alcohol Stove, it will help make your trip more comfortable and more enjoyable. 
So, many hikers try to make their custom stoves, and it causes many serious accidents. Hiking is trendy day by day; it attracts new people. To grab the traveling market, companies launch many products and essential tools for the hikers. Now You can find many unusual and suitable Alcohol stoves that will solve the cooking problem.
But the question is why alcohol stove, why not another stove? The answer is because Alcohol stove is safe, economical, and handy for traveling. You can easily carry in your Backpack.
The top 5 Alcohol Stoves for any camping:
Based on shape, price, quality, and customer review, we bring the top 5 alcohol stoves for you. These products will fascinate you for your trip, and you will never suffer from cooking issues anywhere in the world.
Esbit CS985HA 5-Piece Lightweight Trekking Cook Set with Brass Alcohol Burner Stove 
Esbit is one of the best-purchased alcohol stoves for camping, and it is made with hard-anodized aluminum. This material makes the stove a durable and very light. It provides you various options for cooking out on the trail.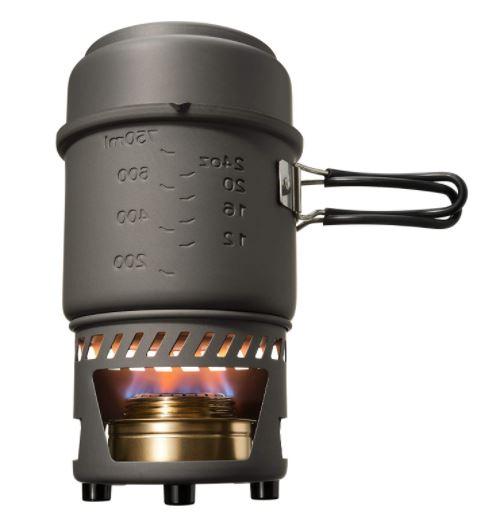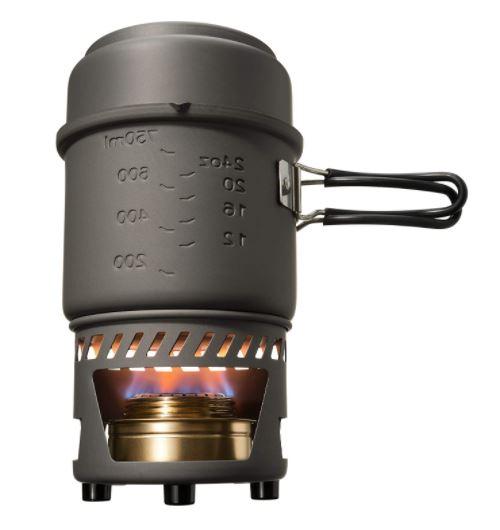 You will find a solid fuel base, brass alcohol burner, stand, two cooking pans, and a carry bag. It becomes easy to carry for the bag. From the two pots include 2 hinged, stainless steel grips, one can contain a 985ml and has a volume indicator so you can control the fire temperature, another pan can hold a 470 ml that acts as a lid and a pan when necessary. So, both pans can be used for multiple purposes. The burner has a sealable screw on the top that can store the fuel, and you do not need to separate containers to store the fuel. It has a variable flame regulator with a fold-out handle.
Alcohol burner capacity is 4 ounces of Alcohol. The manufacturer claims that two-thirds of the fuel will give you 30 minutes to burn. You can use it as a tip that will help you keep the right amount of Alcohol you need for single use. If some oil is left after using it, keep the stove in a burning state until the oil is finished.
Specification:
Brand: Esbit
Model: E-CS985HA
Materials: Brass
Weight: 14.7 ounces
What you like :
Made from hard-anodized aluminum
Extremely Light
Easy portable
Two pans with multiple facilities
Can control the fire temperature
Easy to clean
What you dont like :
Size is larger than others 
Solo Stove Solo Alcohol Burner – Efficient Spirit Burner Cooktop with Flame Regulator | Camp Stove with Fuel Storage Rubber Gasket  
This single burner alcohol stove is versatile and very easy to use. It has a fire cover that features a folding handle. This cover is capable of controlling the flame. The simmer lid features extend your burn time.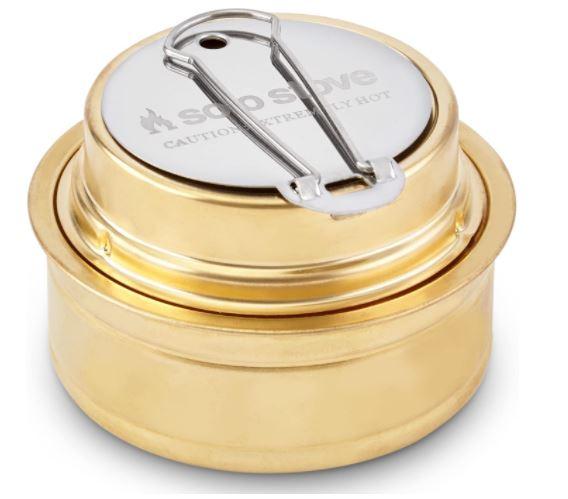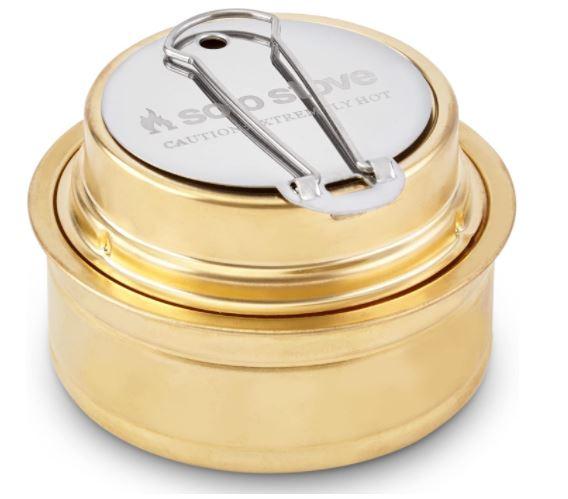 It has an O-ring feature-based hat-twisting burner sealing system. That means you don't need to empty the remaining fuel.
It has a seal cap that can reduce fuel waste by preventing evaporation. It is a crucial factor in saving fuel and save your money.
It is a compact shape that you can easily carry with you. It is made of Aluminum alloy, which helps enhance this product's stability and attractiveness—designed to be perfect for error-free. Aluminum alloy stove stand and brass stove, base with air screen that can stabilize the stove and support the pot.
Specification:
Brand: Camp Stove
Model: ALCH1
Fuel: Denatured alcohol/methylated spirits
Size: Height 1.8 inches, Diameter 2.9 inches
Materials: Aluminum alloy and brass
Weight: 3.5 oz
What you like :
Made from Aluminum alloy and brass
Has an O-ring sealing system
Easy portable
Can control the fire temperature
What you dont like :
Slower cooking times
Need Windshield for better performance
EVERNEW TI Stove DX Set 
The Evernue alcohol stove set looks like it's in a kitchen. The total weight comes in a nice 3oz. This stove includes the alcohol stove pot stand, a windshield as well as a turbo plate. You can set the Windshield up and let it burn, and the wind could not do anything wrong to stop you.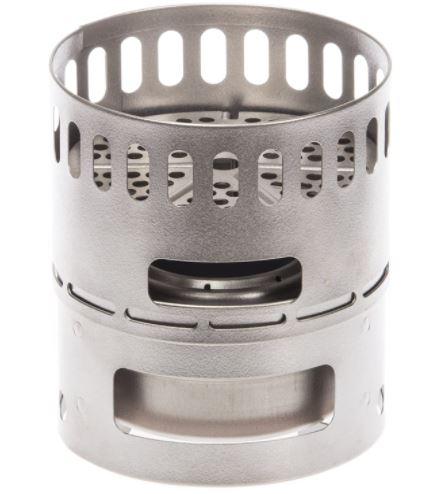 This product is designed by the Japanese company EVERNEW. This ninety-year-old company has been making alcohol stoves since the 1920s. The stove is made of titanium and built for thousands.
Though it has an alcohol stove, pot stand, windscreen, and turbo plate. Still, it folds ultra-small with all the pieces attached. The full capacity of the fuel will give you twenty-minute fires to burn. This alcohol stove will not leave you on – unless you sniff the flame.
Specification:
Brand: TI Stove DX
Model: 696953
Material: Titanium and Copper alloy
Weight: 3.0oz/86g
Country: Japan
What you like :
Made from hard Titanium and Copper alloy
Ultra Small
Easy portable
Wind block frame
What you don't like :
Burns for less time
Slower cooking times
Lixada Camping Stove Stainless Steel Folding Wood Stove and Alcohol Burner Pocket Stove for Outdoor Camping Cooking Picnic 
The Lixa Camping Stove is genuinely a two-in-one product. An alcohol burner's frame can be used to stable the stove and also use it as a wood burner. I decided to include it because it follows the golden rule of survival – there is always a backup.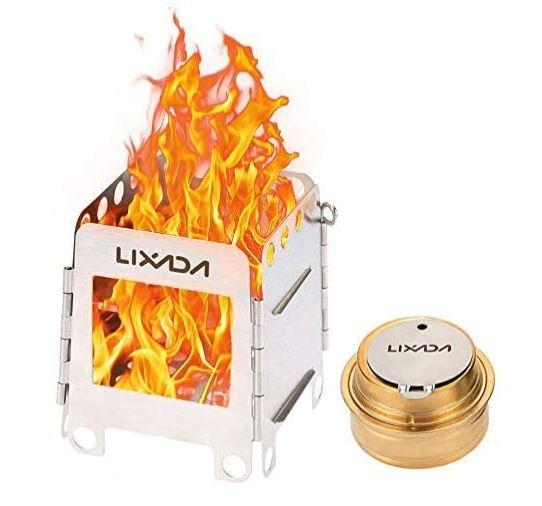 If you find a twig or kindling wood for use as fuel, this burner can be used instead of Alcohol, or vice versa. An alcohol burner fits into the wood burner and makes it stable for cooking. Its frame is made from solid stainless steel, making it extra hard and resistant to high temperatures. The frame folds super small and fits with the given bag. It is extremely easy to assemble.
It's probably not the best alcohol burner on the alcohol stove sector, but the reality is that its duo burning facility makes it an excellent survival tool.
Specification:
Brand: Lixada Camping Stove
Model : SFJ0560392255167CQ
Material: Stainless steel
Height: 4.3in (Woodstove); 1.8in (Alcohol Burner)
Weight: 190g (Woodstove); 105 (Alcohol Burner)
What you like :
Made from solid stainless steel
Scientific design
Used as Alcohol and wood stove
Easy portable
Wind block frame
What you dont like :
Alcohol stove burns for less time.
REDCAMP Mini Alcohol Stove for Backpacking, Lightweight Brass Spirit Burner with Aluminium Stand for Camping Hiking 
If you are looking for a reliable alcohol stove, the REDCAMP Mini Alcohol Stove is best. It has a simple design that folds into a small velvet bag and weighs just five ounces so that you can chuck it into your bag, and you will rarely see the extra weight. The stove is made from brass, which makes it excellent heat resistance; And it comes with an aluminum alloy stand to avoid burning the soil. It has a rubber seal that prevents alcohol leak and evaporation. It has a foldable handle on the flame regulator to control the flame.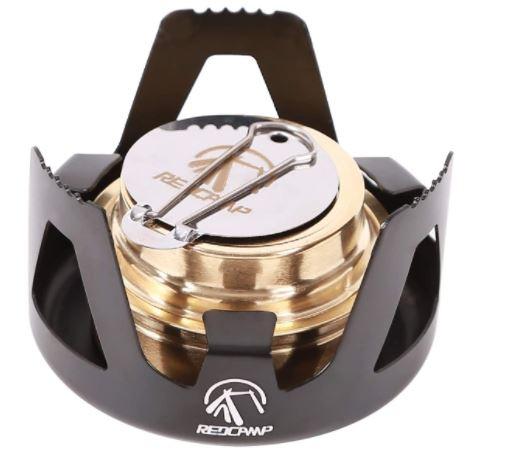 Using only 100m1 of Alcohol (denatured Alcohol works best) will burn for about 50 minutes. It is not as powerful as the propane camping stove, but you cannot argue with its performance. The most impressive feature is the variable temperature control. It has a flame controller with a foldable handle that helps you to control and extinguish the fire while you are ready.
Specification:
Brand: RedCamp
Model: B0794NZXZG
Color: Black, Green, Silver
Material: Aluminum Alloy base and Copper burner.
Burner size : 7.5 x 4.6cm and 3.0 x 1.8″ (W x H)
Weight:5oz /145g
What you like :
Made from Aluminium alloy stove stand and brass stove
High combustion efficiency
Flame regulator
Lightweight
Easy to carry
What you dont like :
Need Windshield for better performance
FAQ and Answer
How much Alcohol needs to use an alcohol stove?
Answer: Alcohol stove has many categories, and different stove perform differently. Here, we What you dont like ider the average quality alcohol stove, which requires 2-ounce Alcohol to burn for 10 to 15 min.
What is the best use of alcohol stoves?
Answer: Alcohol stove is Good for Boiling Water. Alcohol stoves may look small, but it works efficiently when it comes to boiling water and helping you to cook readymade noodles, milk, tea, coffee, etc.
How long does it take for heat to work?
Answer: Most stoves can boil water within 5-6 minutes.
Can you use an alcohol stove indoors?
Answer: Yes. You can use it for cooking indoors when you have no other options. Remember, Alcohol catches fire very quickly so, What you dont like ider proper awareness when cook. It is extremely flammable, but not explosive.
Which Alcohol is the best fuel?
Answer: Alcohol is used as a fuel for Alcohol stove. Many alcohol stoves are available in the market, and most common stove fuels name is:
Denatured Alcohol
Pure methanol
Pure ethanol
Fuel line antifreeze
Rubbing Alcohol
Buying Guideline of best alcohol Stove:
How to choose the best Alcohol stove for you? If you are here, it means you are planning to go for hiking or trekking. You do not find available foods there, so you need to pick snacks with you. It might be readymade noodles, coffee, tea, etc. to make these foods you need to boil water. So, it would be best if you needed a stove, and the alcohol stove is the best fit for trekking and hiking. To buy the best alcohol stove, you must What you don't like the idea of the following topics-
TYPES AND SHAPES
You may find several types of alcohol stoves for your trips. You need to think about the best-sized and user-friendly stove, which has many facilities with limited resources. Choose small size alcohol stove, which can fulfill your desire. It will help you get a comfortable journey and not take up much space in your Backpack.
WEIGHT
In a trekking and hiking, weight is the most What you dont like iderable fact. You have to manage between the weight and the needy things. It would be better to have a light stove. It is because generally, on these trips, you must travel long roads. With a lightweight alcohol stove, it will help you to move quickly.
PRICE
To go for trekking or hiking, we must buy so many things. It will be better to save money from one thing so that you can buy other needy things. In my opinion, you do not need to spend a lot of money on it. The price will vary based on product quality, specifications, and materials. I think $20-$60 is enough to get a good stove, but it is up to you what really fits your demand.
MATERIAL
When buying an alcohol stove, the stove materials are What you dont like idered extremely important for choosing the product. Suppose you have a tight backpack, and if your stove material is not strong enough, it can be damaged due to pressure. The best quality material does not mean spending a lot of money. Most of the good alcohol stoves are made from stainless steel, titanium, aluminum, and brass. All materials are good. You need to find a suitable weight and size for fitting to your Backpack.
EFFICIENCY
You can cook anything in Alcohol stoves, but it is generally used to boil water. To boil water it can take around 10 min, if you do not want to wait around 10 min for boiling water, you should choose an alcohol stove that takes fast boil time, but remember, it also takes a lot of fuel quickly.
Conclusion:
When you have the best alcohol stove, it will help make your trip more comfortable as well as more enjoyable. If you are looking for a good stove, these alcohol stoves are for you. This type of stove is easy to carry, can be burned with Alcohol, can be used easily anywhere, and is safe. So, the role of these stoves as a solution to cooking at the hiking or trekking is immense.
You may Also like: best Camping tent under $200
Hi, I am Michael B.McMahon. I am a professional Hiker, Traveler, Climber & Mountainer. I love to travel a lot. I describe my all experience in this blog. I visit a lot of places. I hope my all article helpful everyone. Enjoy It