Are you looking for the best hiking belt in the world? You've just landed on the right article! If you are an outdoor enthusiast, your overall hiking outfit is as essential as the decision to go hiking. Remember that a journey of a thousand miles begins with one step. You should, therefore, not take that step without adequate preparation.
Having a proper hiking belt while trekking or hiking is essential to hold your apparels in place and give you the confidence you need to make that crucial step towards a more fulfilling and enjoyable hiking experience.
Please sit back and relax as you browse through my top 5 hiking belts in the market that offer the much-needed comfort and convenience. I have identified perfect belts with second to none features to cater to your hiking needs. Scroll down, and you will, for sure, find one that would make you happy.
REVIEW AND RATING OF TOP 5 BEST HIKING BELT
1. PROPPER TACTICAL DUTY BELT
Suppose you are looking for the most refined accessory from a reputable company. In that case, the Propper Tactical Duty Belt is ideal for you. It is an excellent webbed belt with an incredibly resilient attribute. Check its exciting features below.
Important features
Durability
The belt is made of 100% heavy-duty nylon material stitched in an attractive web format. It gets designed for constant use due to the high premium materials in the belt that last long.
Lightweight
A single layer of 1.5 inches of nylon webbing gets used to make the belt. That makes it easy to wear the strap around, and after a while, you won't feel the product's weight. Moreover, the belt weighs 4.8 ounces to make it possible for you to trek with the belt effortlessly.
Multipurpose
Will the belt serve your outdoor sporting and leisure activities? Yes, it will! Whether you are going for work or your everyday outdoor activities, the belt has no wearing restrictions. It gets designed to provide utility in a wide range of situations and environments.
Airport friendly
Its buckle is made of rigid plastic material to wear it through a TSA checkpoint with no issues. Besides, the belt is also airport friendly as it contains no metal as part of its body.
Adjustable fit and trim-able length
I loved the belt because it has a default length trimmed to the desired length size. It gets made of trim-able nylon quality, and you shouldn't get worried about whether you will find your fitting size.
What I liked
Durable enough to hold a fair amount of stuff
Fits nicely around your waist
Comfortable to wear
Has a casual look so that you can wear it with regular pants
Has a plastic buckle to make it possible to pass through a metal detector without the inconvenience
What I didn't like
It cannot handle a lot of stuff.
2. UNDER ARMOUR MEN'S WEBBED BELT
If you are looking for a brand that offers the best belts in the world, Under Armour Men's Webbed Belt is a company that provides quality products with high-end features. It goes out of its way to ensure that you find a perfect belt that caters to your hiking needs. Continue reading on to find premium features you have always looked for in a belt.
Important features
The belt gets made of 100% imported polyester material to last for an extended period. It is a fantastic choice, especially if you want something that would serve you a significant period.
Detachable buckle
Interestingly, the belt has a crested silver-colored detachable buckle. Most importantly, it allows you to trim the clasp to the desired length or re-fix it.
Superb grip
I appreciated the belt because it has a super grip to hold your pants in place. With the grip, your pants stay secured for as long as you wish. You won't have to get worried about falling pants and luggage.
Multifunctional
The belt can serve a variety of outdoor activities. You can use it for hiking, working, casual days, or any training requiring a quality belt.
Trim-able material
If the length is too big for your waist, the product's polyester material can get trimmed to the desired size. You don't deserve to get stressed over a longer length that comes with the belt.
Easy washing
Does it get tedious hand washing a belt? Worry no more! You can pass the strap through a washing machine effortlessly. All you need to do is to place your belt in the washer and voila! You have a super clean belt.
Lightweight
No matter where your path takes you, the belt is super light. It weighs a total of 8 ounces for easy carrying on your waist.
Sturdy material
If you need a sturdy and flexible product, the belt is an excellent pick for you. It gets specially designed to withstand long outdoor hours of carrying and hiking.
What I liked
Has durable webbed construction that offers flexibility
Easy and quick-clasp buckle that adjusts for comfort
Runs long and has an upward fit of 48 inches to fit many
It doesn't stretch even if it gets worn for a long time
It can hold lots of stuff
Has a detachable buckle to use it with other webbed belts
Has lots of colors you can choose
Has an extra bottle opener on the back of the buckle
What I didn't like
The buckle finish wears off over time
Has a sharp buckle edge that might run against your skin
3. 5.11 TACTICAL MEN'S 1.5-INCH CONVERTIBLE TDU BELT, NYLON WEBBING, FADE-AND FRAY-RESISTANT, STYLE 59551
Suppose you need a tactical belt with high functional ability. In that case, Tactical Men's 1.5-Inch Convertible TDU Belt is an ideal choice for you. It can deliver a convenient and quick excelling. Hence, it is an exciting option for air travel.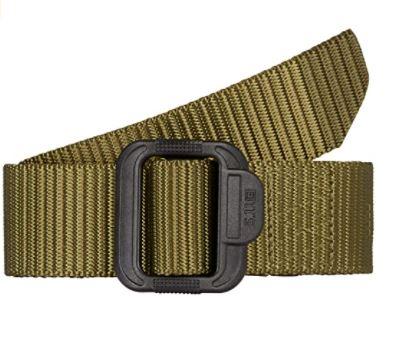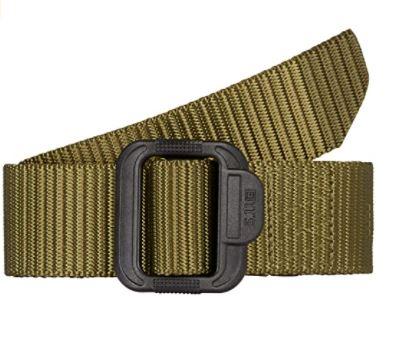 Important features
Easily convenient
The belt features a convertible Tactical Duty Uniform belt. It means that the product can quickly convert into a carry strap or tie-down depending on your different needs.
High-quality material
What I sincerely liked about the belt is that it gets made up of 100% quadruple-stitched nylon. The nylon material is resistant to fading and fraying for guaranteed strength and durability.
Airport friendly
With this type of belt, you don't have to stress yourself about tripping the alarm while passing through a metal detector at the airport. Every part of the belt is non-metallic, making it fit to go through a TSA checkpoint with no worries.
Adjustable strap
It has a unique strap that adjusts itself automatically to the plastic buckle's pressure. Hence, whether you are an engineer, technician, or part of a tactical unit, you have confidence that this belt will offer you the needed comfort.
Wide range of colors
There are a variety of colors you can pick. These are coyote, black, and TDU green. All you have to do is to choose your favorite color and size.
Lightweight
The item is versatile and lightweight for easy convenience. It weighs a total of 9.6 oz. You can have it on your waist for as long as you want.
What I liked
Comes in three different colors to choose
It is the most comfortable and functional tactical belt
Holds on perfectly while riding
Made of highly durable materials
What I didn't like
It is not perfect for heavy-duty use.
4. NIKE TECH ESSENTIALS WEB BELT BLACK 1111301
Nike is a superior brand in the market and offers quality belts that meet your strapping needs. Whether you are a fan of Nike or not, you will automatically find Nike Tech Essentials Web Belt appealing. You will, for sure, get amazed by its unique features. Check them out below.
Important features
Durable materials
Notably, the belt is made up of 100% cotton that is intended to last. Besides, its buckle is rubber coated to provide comfort when strapped around your waist.
Adjustable fit
Surprisingly, it has an adjustable buckle. You don't have to worry about size and fitting because the belt comes with personalized fitting technology. Similarly, the length of the strap can get cut easily to fit your waist and body size.
Stylish and fashionable
It features a coated military-inspired buckle that comes with a bottle opener on the back. Interestingly, the belt has a beautiful reversible web design with Nike's swoosh logo on its buckle and tail. These attractive specs give the belt a cool, irresistible look.
Multifunctional
Moreover, the strap is suitable for everyday use. You can also use it in your weekly outdoor adventures to meet your strapping needs while working or during leisure.
Lightweight
If you need a light strap comfortable on your waist, then this belt is an exciting choice. It weighs a total of 4.8 oz to give you a convenient time while trekking up the mountain.
Multiple colors
What I sincerely liked about the strap is that it comes with multiple colors to pick. You are at liberty to either choose a pink, royal blue, collage navy, or an orange belt.
What I liked
It can hold the buckle correctly because it is quite thick
Easy to wash by hand or machine
Has a variety of colors to choose
It is reversible. You can change sides if one side looks dirty or worn out
Has a bottle opener that comes in handy when you are outdoors
Has a heavy-duty construction with a sturdy material
What I didn't like
The paint present on the buckle fades out after some time.
5. COLUMBIA MEN'S & BOYS' MILITARY WEB BELT – ADJUSTABLE ONE SIZE COTTON STRAP AND METAL PLAQUE BUCKLE
Columbia is a trusted and reputable American company that offers durable web belts. If you value quality Columbia men's & boys' military web belt is a long-lasting accessory that you can proudly trust.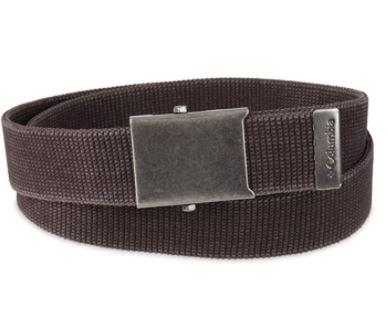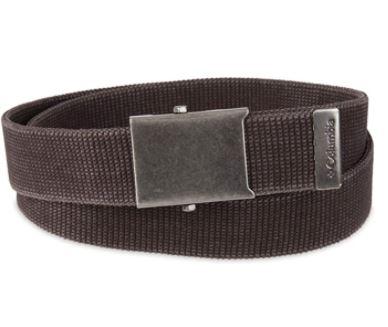 Important features
Long-lasting materials
The belt takes pride in using the best-in-class material to produce the perfect belts in the world. It uses 100% imported cotton to make the belt look appealing and classy.
Easily adjustable
You don't have to get stressed about the belt length. It is a one-size-fit product that can get adjusted easily to achieve optimum functionality and convenience.
Convenient
No matter where your path takes you, the belt is a perfect companion for hiking and city trips. It is also ideal as a running belt for longer distances and a perfect item for trekking in the wilderness.
Compatible
It is a fantastic strap compatible with most hiking pants. Moreover, the belt comes with a built strap of 1.5 inches to get used to hiking or professional clothing.
Stylish
I loved the fact that the belt is fashionable and more beautiful than other known belts. Consequently, the military web belt has a dull silver ox-colored metal plaque buckle appealing and classy. It also comes with a stylish COLUMBIA crested logo on the tip.
Multiple colors
There are several options of colors to choose from, including brown, beige, charcoal, and black. All you have to do is pick one that makes you smile.
What I liked
Has a super thick material that doesn't fray
Holds the buckle perfectly well
Easy to wear and feels comfortable
It is lightweight and breathable
Easy to cut into a favorable size
Has a sturdy and durable buckle
What I didn't like
The belts are only available in dark grey colors. There are no bright colors available
COMPREHENSIVE BUYING GUIDE OF THE BEST BACKPACKING BELT
Are you confused about which belt to choose? Before you even think of buying a backpacking belt, it is crucial to consider several factors. Please go through my guide below to get essential insights into picking an excellent strap on the planet.
1. Material
The type of material used in the fabrication of your belt is essential. Not only will it affect the way the belt looks but will also affect the usability and durability of your strap. Hence, select a belt made of highly durable material that will serve you for an extended period. From the top-notch belts identified above, they are made of premium materials such as:
2. Comfort
If you don't choose comfort in a belt, it will get unbearable after some time, and you won't like it. Nylon and cotton belts are highly comfortable and convenient. Ensure that you get a suitable thick belt that won't keep digging into your belly when you sit. Don't compromise your comfort for anything in a belt. Go through my picks and choose one that makes you happy.
3. Secure buckle
In all honesty, no belt will serve much use if the buckle is not securely held in place. Select a belt with a top-quality buckle. You wouldn't wish for an embarrassment in a crowd when your belt falls off the ground. Ensure that you buy a belt with a super-heavy duty stainless steel buckle with a secure fastening system.
4. Cost
You get what you pay for in terms of value and quality. However, with my top picks above, you don't have to pay more to get a quality belt. All the belts identified are budget-friendly yet of premium quality. It is essential to first think of the purpose of your belt before you purchase one.
5. Width
When choosing a belt, make sure that you pick one with a thicker width. With a thicker belt, your weight will get evenly distributed throughout the belt to provide you with the needed comfort. Besides, ensure that the pants you intend to wear have belt loops more significant to fit your chosen belt.
6. Looks
Most people fall in love with stylish and fashionable looks in a belt. Straps come in specific sizes with multiple colors. However, get sure that the belt style, color, and width are suitable for the intended purpose and matching buckle. Ensure that you choose a belt that matches both casual and formal situations.
7. Rigidity
A stiffer belt is more robust and more durable. As you think of purchasing a strap, choose one with special reinforcements that boost your belt's longevity, and distribute weight evenly.
WHAT ARE THE FREQUENTLY ASKED QUESTIONS IN THE BEST HIKING BELT
What is a hiking belt?
It is a unique strap designed for hiking. Nonetheless, it is durable, lightweight apparel that gets worn around the waist. It helps to keep your pants up and holds items in place for easy access.
What is an ideal type of hiking material?
Hiking belts are made of different materials. Most hiking belts are made of nylon, cotton, and polyester. Water-resistant polyester and nylon are common materials used in most hiking belts meant for outdoor activities.
What is the best type of hiking belt buckle?
Straps come with various buckle types, and it is up to you to choose one that is durable and appealing. The most common types are clamp closure buckle, quick release, flip, and tongue buckles.
CONCLUSION
Are you satisfied? By now, you understand what it takes to have a perfect hiking strap. I have done a challenging job searching for you by thoroughly researching the world's most durable belts. Go through the article to have a clear insight into excellent belts with high premium qualities to meet your strapping needs.
If you need the best hiking belt, look nowhere else! Everything you have ever wanted to know about top straps is in the review article. Take a step and read through them.
Hi, I am Michael B.McMahon. I am a professional Hiker, Traveler, Climber & Mountainer. I love to travel a lot. I describe my all experience in this blog. I visit a lot of places. I hope my all article helpful everyone. Enjoy It